Summer Squash Casserole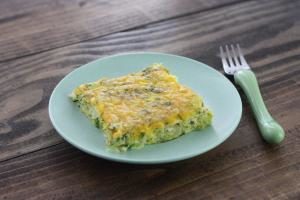 Looking for ways to use local vegetables in the height of the season? This easy casserole is a great way to utilize summer squash.This is a summer CACFP / food service recipe for Summer Squash, local Dairy and fresh Herbs.
Cooking and prep level: Intermediate.
Prep Time

20 min

Cook Time

50 min

Total Time

1 hr 10 min

Yield

25

Serving Size

(1) 5x5

Energy

50 cal

HAACP Process

2, same day service
Course

USDA Meal Components

CACFP Crediting Information: 1 piece provides ½ oz. equivalent meat alternate and ¼ cup vegetable.

Diet
Ingredients
Nonstick cooking spray
14½ oz Onions, fresh, peeled, diced ¼ inch
Zucchini, fresh local, unpeeled, grated and squeezed dry
Yellow squash, fresh local, unpeeled, grated and squeezed dry
¼ cup fresh local Parsley, finely chopped
2 tsp Oregano, dried
½ tsp Salt
½ tsp Pepper
4 Eggs, large, whole
½ cup Milk, skim local
5 oz Cheddar Cheese, sharp local
Method
1
Preheat oven to 400 °F.
Lightly coat steam table pan with nonstick cooking spray. Set aside.
For 25 servings, use 1 half pan (10⅜ x 12¾ x 4). For 50 servings, use 1 full pan (12 x 20 x 4).
2
Spray an extra-large skillet or tilting skillet with nonstick cooking spray and heat over medium-high heat.
3
Saute onions for 5 minutes or until soft. Stir frequently.
Add zucchini and yellow squash. Saute for 10 minutes. Stir frequently.
Add parsley, oregano, salt, and pepper and stir. Continue cooking until zucchini and yellow squash begin to lightly brown, about 7-10 minutes. Remove from heat.
4
In a medium bowl whisk egg and milk together.
Place sauteed vegetables in baking dish. Top with egg and milk mixture and lightly stir, keeping vegetables evenly distributed on the bottom of the pan. Sprinkle cheese evenly on top of mixture.
5
Bake uncovered for 25 minutes.
Critical Control Point (CCP): Heat to 160°F or higher for at least 15 seconds.
6
For 25 servings, cut each pan 5 x 5 (25 pieces). For 50 servings, cut full pan 5 x 10 (50 pieces).
Critical Control Point (CCP): Hold for hot service 140°F or higher.
This recipe is made with fresh, shredded zucchini. You can also shred summer squash during the height of the season, and then freeze it in labeled, dated storage bags. When using thawed summer squash be sure to squeeze all excess water from it once thawed to prevent adding too much extra liquid to the recipe!
Nutrition Facts

25 servings per container

Serving Size

(1) 5x5

Amount per serving

Calories

50

% Daily Value*

Total Fat

3 g

3.85%

Saturated Fat

1 g

5%

Trans Fat

0 g

Sodium

75 mg

3.26%

Dietary Fiber

1 g

3.57%

Protein

3 g

6%

* The % Daily Value (DV) tells you how much a nutrient in a serving of food contributes to a daily diet. 2,000 calories a day is used for general nutrition advice.
Save this recipe: