Peter Piper's Pickled Peppers and Friends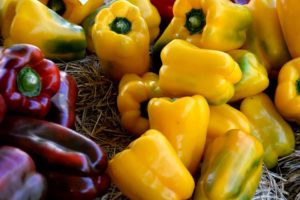 Just like in the Mother Goose rhyme, we've picked a peck of pickled peppers. What the rhyme failed to note was just how delicous these pickled peppers are!This is a spring, summer, and autumn school food service recipe for Bell Peppers and Radish.
Cooking and prep level: Basic.
Prep Time

1 hr 5 min

Cook Time

15 min

Total Time

1 hr 20 min

Yield

100

Serving Size

3/4 cup

Energy

34 cal

HAACP Process

2

Related curriculum?

Yes!
Ingredients
6 lbs 9 oz Bell Peppers, yellow, red and green, fresh, cut into strips
7 lbs 1 oz Red Onion, fresh, thinly sliced
6 lbs 6 oz Radish, fresh red globe or watermelon radish (for a milder taste), thin sliced
5 cups White Wine Vinegar
2½ cups Sugar
2 heads Garlic, fresh, peeled and cloves slightly smashed
2 Tbsps Coarse Salt
Pickling Spice (See notes)
Method
1
Combine in a large pot: vinegar, sugar, spice mix, and salt. Bring to a boil, stirring/whisking to dissolve the sugar.
When sugar has dissolved, set pan off to the side to cool slightly.


2
Toss to combine all the veggies in large totes or non-metallic bowls. Pour liquid over veggies, toss gently to coat evenly.
Seal totes with plastic wrap and then with foil.


3
CCP: Refrigerate, reducing internal temperature to 41* F within four hours.


4
Serve drained veggies with a #6 scoop.
 
5
Combining crisp veggies to create a marinated, or pickled, side dish increases the likelihood your students will be willing to give them a try. A well-balanced pickling solution will have both sweet and tart flavors, along with a complementary combination of seasonings. When quick pickling veggies, be prepared to leave them to marinate for a minimum of three hours, or better yet, use the veggies for service the next day.
6
Holding at 41* F overnight will not make them soggy, and your veggies will be even more flavorful!
For an easy Pickling Spice recipe click here.
For pickling activities check out The Science of Cooking . Or, check out KidsGgardening Exploring Food Preservation lessons here. Study.com has a section on food preservation for students in grades 4-5 here.
Fun Fact: Did you ever wonder where the Peter Piper nursery rhyme came from?
A long time ago, all spices were referred to by the generic name of "peppers". They were also incredibly expensive and the companies who ran the spice trade would go out of their way to keep the supply low by rubbing the seeds with lime before selling them so they couldn't germinate if planted. The practice was called "pickling". As for Peter Piper, he was actually a French pirate and horticulturalist named Pierre Poivre (which has become Anglicized into Peter Piper). Pierre was known for raiding spice stores so he could grow them in his garden in Seychelles and hopefully make spices more affordable and accessible for the average European. The rhyme comes from the fact that there were at least a few occasions where Peter Piper picked pickled peppers that wouldn't grow in his garden.
Nutrition Facts

100 servings per container

Serving Size

3/4 cup

Amount per serving

Calories

34

% Daily Value*

Total Fat

1 g

1.28%

Saturated Fat

0 g

0%

Trans Fat

0 g

Sodium

154 mg

6.7%

Total Carbohydrate

7.8 g

2.84%

Dietary Fiber

1.1 g

3.93%

Total Sugars

6.4 g

Protein

0.5 g

1%

* The % Daily Value (DV) tells you how much a nutrient in a serving of food contributes to a daily diet. 2,000 calories a day is used for general nutrition advice.
Save this recipe: