SPINACH AND CHICKEN QUESADILLAS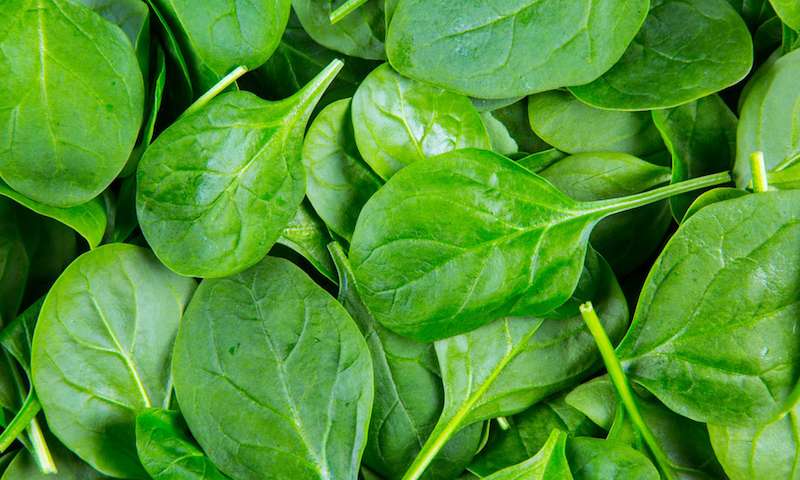 This fantastic recipe incorporates USDA commodity ingredients with fresh spinach and a student favorite, cheese!This is a spring and summer school food service recipe for spinach.Cooking and prep level: Complex.
Prep Time

1 hr

Cook Time

30 min

Total Time

1 hr 30 min

Yield

100

Serving Size

1⅛ cup

Energy

130 cal
Cuisine

Course

USDA Meal Components

2 oz Meat/Meat Alternative
2 oz Equivalent Whole Grains
½ c Dark Green Vegetable
¼ c Red/Orange Vegetable
Ingredients
9⅓ lbs USDA chicken, diced, thawed and drained
¾ lbs onions, fresh diced
3 Tbsps garlic, fresh chopped
26½ lbs spinach, fresh trimmed
½ cup Parmesan cheese, grated
11½ cups mozzarella cheese, part skim, low moisture, shredded
100 tortillas 8-inch whole-wheat
Canola or Olive Oil Pan Spray
Mexican Spice Mix (See notes)
Method
1
CCP: Preheat ovens: Conventional to 375°F, Convection 350°F
2
Place chicken in a tote or large bowl. Add ½ c oil and toss. Add 4 Tbsps Mexican Spice Mix and toss to distribute spices well. Place chicken on lined sheet pans in a single layer.
3
CCP: Bake for approx. 15 minutes, until chicken barely begins to brown and internal temperature is 145 F or more for 15 seconds. Be careful- do not dry out the chicken. Cover pans with foil if the chicken is in danger of drying out!
4
Remove from oven and hold in a steam cabinet or table. Leave ovens on.
5
While chicken is cooking, using a steam jacket kettle or large pan, saute the onions and garlic in the oil until soft and translucent; add salt.
6
Add the spinach to the onion and garlic mixture, sauteing until just until warm. The spinach should be just beginning to steam and should be releasing some liquid.
7
Place the mixture into a perforated hotel pan to cool and drain.
8
Once the spinach has cooled enough to touch, squeeze out as much liquid as possible.
9
Combine the spinach with the warm chicken, and add the two cheeses; mix until the ingredients are evenly dispersed. Taste for seasoning; adjust if necessary.
10
Lay tortillas on a clean work surface. Place a 3-ounce scoop of the mixture onto half of each tortilla and spread to distribute. Fold the tortillas in half and place on sheet pans covered with sprayed parchment paper.
11
Copiously spray the top of the quesadillas with pan spray.
12
CCP: Bake for 8 minutes, until golden brown.
13
Allow to sit for 5 minutes before cutting into three wedges.
14
Serve with a #16 (1/4 cup) scoop of salsa.
Mexican Spice Blend Recipe: click here.

Spinach is a cold tolerant annual that was native to central and southwest Asia and was first cultivated in Iran. Wild varieties can be found throughout Asia, North Africa, and Europe.

Spinach grows well from March through May and again September through November. Depending on which variety you choose to plant, spinach can have smooth leaves or crinkled (savoyed) leaves.
Nutrition Facts

100 servings per container

Serving Size

1⅛ cup

Amount per serving

Calories

130

% Daily Value*

Total Fat

6.5 g

8.33%

Saturated Fat

2.3 g

11.5%

Trans Fat

0 g

Cholesterol

39.9 mg

13.3%

Sodium

208 mg

9.04%

Total Carbohydrate

3.4 g

1.24%

Dietary Fiber

0.6 g

2.14%

Total Sugars

0.9 g

Protein

13.5 g

27%

* The % Daily Value (DV) tells you how much a nutrient in a serving of food contributes to a daily diet. 2,000 calories a day is used for general nutrition advice.
Save this recipe: