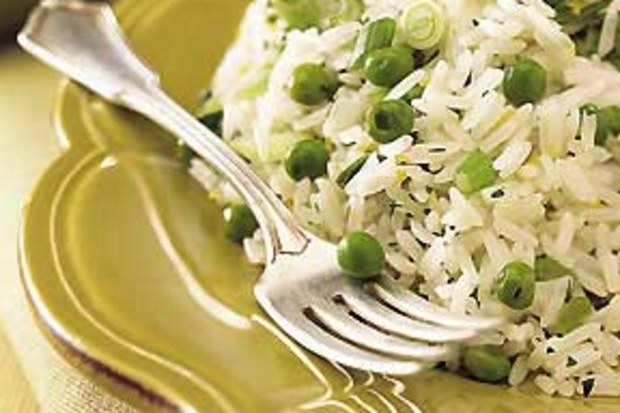 What a wonderful way to usher in springtime!Recipe type: Warm side dish with grains and peas. This is a family spring and summer recipe for fresh Peas and fresh Herbs.
Prep Time

5 min

Cook Time

55 min

Total Time

1 hr

Yield

6

Serving Size

1/6

Energy

201 cal

HAACP Process

2
Ingredients
1¾ cups water
1¼ cups jasmine rice, rinsed well, drained, or long-grain white rice
½ teaspoon salt
½ cup shelled fresh spring peas in the season, or baby frozen peas out of season
2 tablespoons extra-virgin olive oil
6 fresh, spring green onions, thinly sliced
2 tablespoons fresh lemon juice
2 tablespoons chopped fresh parsley
1 tablespoon grated lemon peel
Method
1
Combine 1¾ cups water, rice, and salt in large saucepan.
2
Bring to boil over high heat. Reduce heat to low; cover and cook until rice is tender, about 15 minutes.
3
Remove from heat. Let stand covered 15 minutes. Fluff with fork. Cool.
4
Cook peas in medium saucepan of boiling salted water 1 minute. Drain. Rinse under cold water. Drain. Do not overcook!
5
Heat oil in a large nonstick skillet over medium-high heat.
6
Add all but 2 tablespoons green onions; saute 30 seconds.
7
Add rice and saute until heated through, stirring to break pieces, about 4 minutes.
8
Add peas, lemon juice, parsley, and lemon peel. Saute 2 minutes to blend flavors.
9
Transfer to serving bowl. Sprinkle with remaining green onions and serve.
Nutrition Facts

6 servings per container

Serving Size

1/6

Amount per serving

Calories

201

% Daily Value*

Total Fat

5 g

6.41%

Saturated Fat

1 g

5%

Trans Fat

0 g

Sodium

212 mg

9.22%

Total Carbohydrate

35 g

12.73%

Dietary Fiber

1 g

3.57%

Protein

4 g

8%

* The % Daily Value (DV) tells you how much a nutrient in a serving of food contributes to a daily diet. 2,000 calories a day is used for general nutrition advice.
Save this recipe: