Easy Rhubarb Jam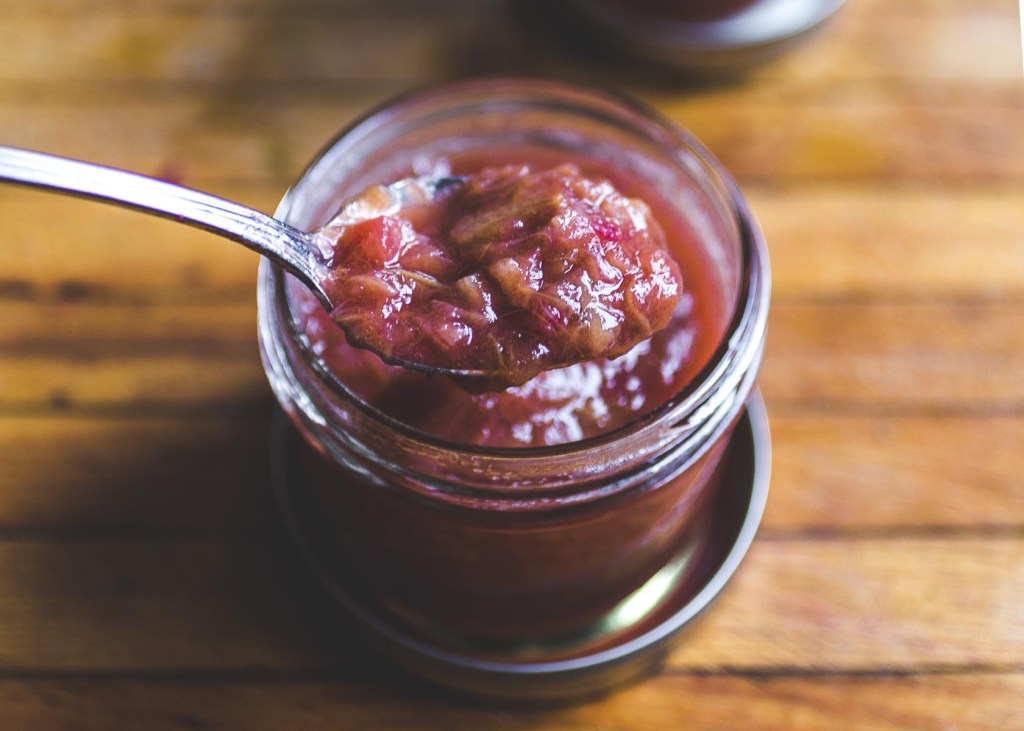 THis is an easy way to make homemade jam with the kiddos- with an added bonus. You can freeze it,  keeping it for up to 6 months  or refrigerate it for 1 month.This is a family and CACFP spring recipe for local, fresh rhubarb.Cooking and prep level: Basic.
Prep Time

5 min

Cook Time

35 min

Total Time

40 min

Yield

2 cups

Serving Size

1 tablespoon

HAACP Process

complex
USDA Meal Components

This recipe is for a condiment-not credible toward the USDA meal program.

Diet
Ingredients
1 lb. rhubarb stalks
1/2 cup sugar
1 2" piece peeled ginger
1/4 cup water
1/4 cup champagne vinegar or plain Orange Juice
pinch of salt
Method
1
Cut rhubarb into 1″–2″ pieces. Place in a large saucepan with sugar, ginger, and liquids.
2
Simmer over medium-low heat, stirring occasionally, until rhubarb is soft and syrup begins to thicken, about 15 minutes.
3
Remove the rhubarb with a slotted spoon and set aside.
4
Continue to simmer syrup with the ginger still in it until it thickens, another 7–10 minutes. Discard ginger, return rhubarb to pan, stir, and cook on low for another 2 minutes. Cool slightly.
5
Option 1: Transfer jam into sterilized jars. (Store in refrigerator for up to 1 month.)
Option 2: Fill freezer containers with the rhubarb jam, leaving an inch of headspace. Freeze the jam for up to 6 months.
Four Things You Didn't Know about Rhubarb:
 The roots were used in ancient Chinese medicine. Long before it became a weird and wacky culinary marvel, rhubarb's roots were believed to aid in digestion. The roots were cultivated as far back as 2,700 B.C.
The leaves are pretty but poisonous. In large doses, eating the elephant-ear shaped leaves could close your throat. The leaves contain high levels of oxalyic acid; which is used in ink, stain remover and metal polish.
Rhubarb is really a vegetable. As we've reported, many fruits and vegetables have swapped categories for political reasons, but rhubarb has remained largely under the radar.
It's big – really big – in Alaska. Rhubarb is a cold-weather plant, and it will grow back every year for a decade or so, when treated properly. While rhubarb is grown over much of the northern U.S. from Maine to Oregon, it has a special place in the hearts of Alaskans.
Exerpt from: NationalGeographic.com
Save this recipe: