ZUCCHINI PIZZA BITES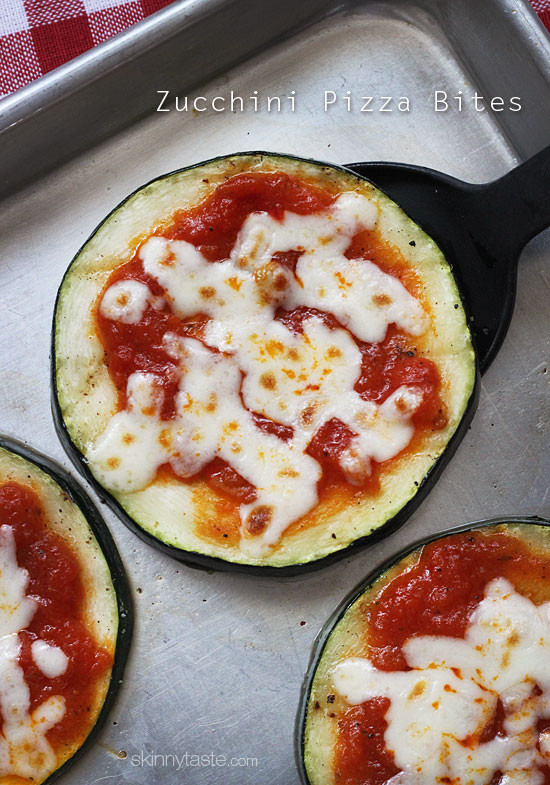 A sure-fire way to get your kids to taste fresh zucchini.This is a summer family recipe for Summer Squash!
Prep Time

10 min

Cook Time

8 min

Total Time

18 min

Yield

3
Cuisine

Course

Appetizer
Vegetable Side Dish

Diet
Ingredients
1 medium zucchini, cut into ¼ inch thick slices
2 cups Marinara sauce, jar or fresh
¼ cup Mozzarella, shredded
Method
1
Heat grill to low, or turn on your oven broiler.
2
Spray both sides of zucchini slices with oil spray.
3
Season each slice with salt and pepper to taste.
4
Place zucchini slices on a flat pan, or on a sprayed grill grate. (Spray the grill grate before lighting grill!)
5
Broil or grill slices for 2 minutes on each side. Watch carefully while cooking.
6
Top each slice with a teaspoon of sauce and a sprinkle of grated cheese.
7
Continue to broil or grill for an additional 1-3 minutes. Be careful not to burn the cheese!
This recipe is gluten-free (depending on the sauce you use) and perfect for a Meatless Monday. If you wish to change up the recipe, try using leftover Italian sausage, fresh basil or a thin slice of pepperoni on your bites, and it's a great way to use up excess garden zucchini!
Nutrition Facts

3 servings per container

Amount per serving

Calories

0

% Daily Value*

* The % Daily Value (DV) tells you how much a nutrient in a serving of food contributes to a daily diet. 2,000 calories a day is used for general nutrition advice.
Save this recipe: