SUMMERTIME CRUNCH! SALAD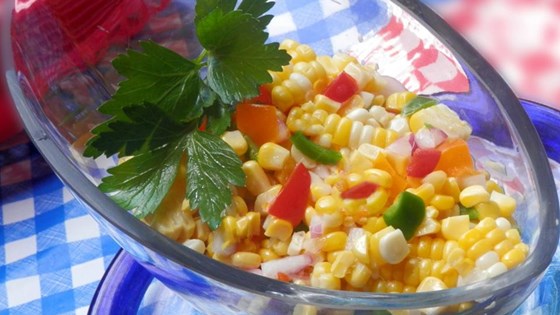 This late summer salad combines crisp jicama, sweet corn, Bell peppers and sweet onion for a late summer taste blast!This is a summer school food service recipe for Sweet Corn, Bell Peppers, Honey, and fresh Herbs.Cooking and prep level: Basic.
Prep Time

1 hr 15 min

Cook Time

20 min

Total Time

1 hr 35 min

Yield

100

Serving Size

4.76 oz

Energy

101 cal
Cuisine

Course

Salad
Snack
Cold Vegetable Dish

USDA Meal Components

¼ cup red/orange vegetable
¼ cup starchy vegetable

Diet
Ingredients
9 lbs 8 oz blanched, roasted, or grilled Sweet Corn Kernels (start with 22 lbs husked med. ears)
10 lbs 5 oz Bell Peppers, orange and red, diced
4 lbs 3 oz Jicama, skinned and chopped
¼ cup Parsley, fresh, minced
⅓ cup Orange Juice, fresh
3 Tbsp Mrs. Dash "Caribbean Citrus Spice" Blend
Method
1
If blanching corn, cook until tender-crisp. Drain corn and shock in an ice bath until completely cooled. This step keeps the corn kernels crisp! If roasting whole ears on a grill or in an oven, cook only until tender-crisp and beginning to brown. Cool ears enough to handle.
2
Cut kernels away from cobs.
3
Place corn, jicama, peppers, onion and parsley in a tote or large bowl. Toss to combine.
5
For the dressing: In a deep bowl whisk to incorporate in order- oil, vinegar, honey, lime juice, and then, the orange juice. Slowly add half of the seasoning blend, whisking to incorporate. Taste. Add more spice blend if you wish to increase the flavor and heat. Re-taste the dressing for sweetness balanced against the tartness. Adjust dressing if too tart or too sweet.
6
Two hours before service, toss the vegetables with the dressing. Allow to marinate until service.
7
At service: toss the salad and serve with a #8 scoop.
The dressing may be made the day before service. Bring to room temp before incorporating with the veggies. If absolutely needed, you may substitute frozen corn kernels, slacked and drained, for the fresh corn. The recipe taste profile and texture will change.

Jicama (HEE-kah-ma), sometimes referred to as yam bean, Mexican turnip, or Mexican potato, is an edible root vegetable native to Mexico and South America. Jicama is a superfood, packed with a prebiotic called inulin, a big contributor to a healthier gut. In addition, jicama is rich in Vitamin C and Vitamin A. This crunchy veggie is naturally low in calories, too. Its sweet crunch and ability to soak up other flavors makes this odd veggie a perfect addition to a cold salad!
Nutrition Facts

100 servings per container

Serving Size

4.76 oz

Amount per serving

Calories

101

% Daily Value*

Total Fat

3.9 g

5%

Saturated Fat

0.5 g

2.5%

Trans Fat

0 g

Cholesterol

0 mg

0%

Sodium

10.2 mg

0.44%

Total Carbohydrate

16 g

5.82%

Dietary Fiber

3.4 g

12.14%

Total Sugars

5.8 g

Protein

2.2 g

4.4%

* The % Daily Value (DV) tells you how much a nutrient in a serving of food contributes to a daily diet. 2,000 calories a day is used for general nutrition advice.
Save this recipe: