SPINACH DIP BITES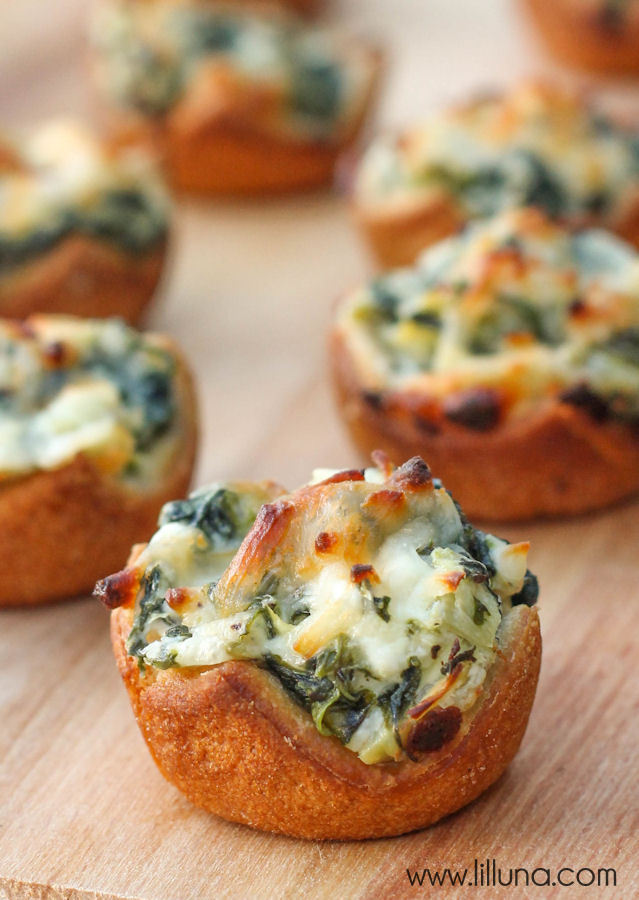 These bites are so warm and cheesy and a great way to get your kids to enjoy spinach! The recipe is simple too, but be warned: you won't be able to just eat one of these!This is a spring family recipe for spinach.
Prep Time

20 min

Cook Time

20 min

Total Time

40 min

Yield

24

Serving Size

1 piece
Ingredients
2 cups fresh spinach, lightly blanched (frozen spinach, chopped and thawed may be substituted)
1 6 ounce jar Artichoke Hearts, drained and chopped
2 T grated parmesan cheese
4 ounces Cream Cheese, softened
¾ cup shredded mozzarella cheese, divided
1 can Crescent Dough, seams pinched together
Method
2
In a bowl, combine spinach, artichoke hearts, garlic and Parmesan cheese. Blend in cream cheese and half of your mozzarella cheese. Season with Salt and pepper and set aside.
3
Using a rolling pin, layout dough on a cutting board and lightly stretch to an 8 x 12 rectangle. Cut dough into 2-inch squares, so you have 24 squares total.
4
Lightly grease a mini muffin tin and place a square in each slot, gently pushing down to create an indent. (you don't need to mold to the cup.)
5
Scoop one teaspoon of your spinach mixture on top of each crescent square and gently push in, (bites will mold to your tin while baking). Spread the remaining mozzarella cheese over the tops of each cup.
6
Bake at 375 F for 15 – 17 minutes, until golden brown. Let cool for 5-10 minutes before moving from the tray.
Nutrition Facts

24 servings per container

Serving Size

1 piece

Amount per serving

Calories

0

% Daily Value*

* The % Daily Value (DV) tells you how much a nutrient in a serving of food contributes to a daily diet. 2,000 calories a day is used for general nutrition advice.
Save this recipe: