SPANISH RICE & VEGGIE PILAF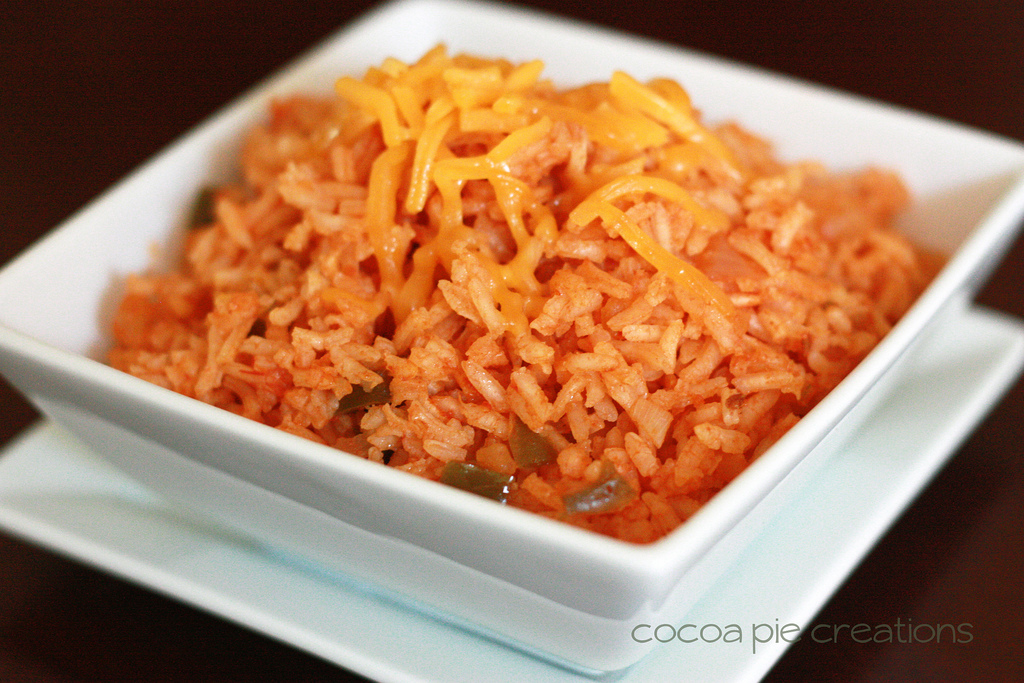 This is a lively rice dish utilizing Spanish spices and fresh Bell peppers.This is a school food service recipe for Bell Peppers and local Grains.Cooking and prep level: Intermediate.
Prep Time

50 min

Cook Time

50 min

Total Time

1 hr 40 min

Yield

100

Serving Size

2/3 cup

Energy

71 cal
Cuisine

Course

USDA Meal Components

2 oz alternate protein
¼ cup Other veg
1 oz creditable whole grains

Diet
Ingredients
4 lbs Onions, Spanish finely diced
5 lbs 2 oz Bell Peppers, green diced
⅔ oz Garlic, fresh, minced
12½ cups Beans, Garbanzo or Chickpeas, drained, rinsed
½ c Paprika, ground sweet or smoked
1 Tbsp Pepper, black ground
6 lbs 5 oz Rice, dry, brown long grain
Method
1
In a rondeau, large stock pot, or small tilt skillet heat oil over medium heat.
2
Add onions, garlic and Bell pepper- saute for 10 minutes, stirring often.
3
Add paprika, cumin, blk. pepper, salt, and oregano. Stir and cook for 5 minutes more.
4
Add chickpeas or garbanzos, salsa, water, and rice.
5
Bring to a full boil. Reduce heat and cover, cooking approximately 40 minutes until all moisture is absorbed and rice is just tender. DO NOT OVERCOOK.
6
CCP: Internal temperature must reach 135 F for 15 seconds.
7
CCP: Hold at a minimum of 135 F through service.
A History of Bell Peppers:
Prehistoric remains in Peru show that peppers existed then, and they were cultivated in Central and South America in very early times. Columbus brought them to Europe in 1493, and they were quickly adopted and cultivated. In fact, it was the Europeans that gave peppers their name. The only pepper they had known until that time was the black and white spice we still sprinkle out of our pepper shakers. When Columbus brought dried peppers back from the West Indies, Europeans said the fruit was "hotter than the pepper of the Caucasus," the familiar table spice. The name "pepper" stuck, and we've been using it ever since.
(Excerpt from garden.org)
Nutrition Facts

100 servings per container

Serving Size

2/3 cup

Amount per serving

Calories

71

% Daily Value*

Total Fat

2 g

2.56%

Saturated Fat

0 g

0%

Trans Fat

0 g

Cholesterol

0 mg

0%

Sodium

177 mg

7.7%

Total Carbohydrate

12 g

4.36%

Dietary Fiber

4 g

14.29%

Total Sugars

1 g

Protein

2 g

4%

* The % Daily Value (DV) tells you how much a nutrient in a serving of food contributes to a daily diet. 2,000 calories a day is used for general nutrition advice.
Save this recipe: