PARMESAN ZUCCHINI AND CORN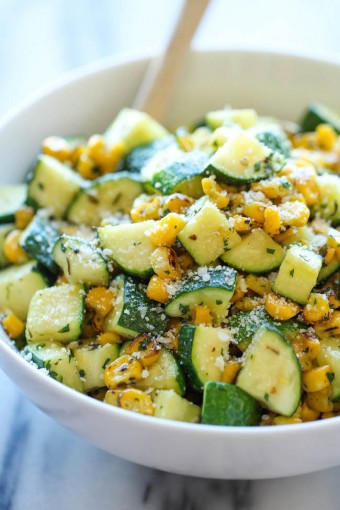 A healthy quick side dish featuring summer's best bounty!This is a summer family recipe for Sweet Corn and Summer Squash.
Prep Time

30 min

Cook Time

5 min

Total Time

35 min

Yield

4
Course

Appetizer
Snack
Hot Vegetable Side Dish

Diet
Ingredients
1 cup grilled or oven roasted sweet corn kernels
2 Tbsp fresh Cilantro, chopped
2 Tbsp grated Parmesan cheese, or more to taste
Method
1
Grill or oven roast sweet corn, cool and remove kernels from the cobs.
2
Heat olive oil in a large skillet over med-high heat. Add garlic and cook, stirring frequently, for 1 minute.
3
Add zucchini, corn, basil, oregano, and thyme. Cook, stirring occasionally until zucchini is tender and cooked through, about 3-4 minutes.
4
Season with salt and pepper, stir in lime juice and cilantro.
5
Serve immediately sprinkled with parmesan cheese.
Nutrition Facts

4 servings per container

Amount per serving

Calories

0

% Daily Value*

* The % Daily Value (DV) tells you how much a nutrient in a serving of food contributes to a daily diet. 2,000 calories a day is used for general nutrition advice.
Save this recipe: