Brown Butter Apple Loaf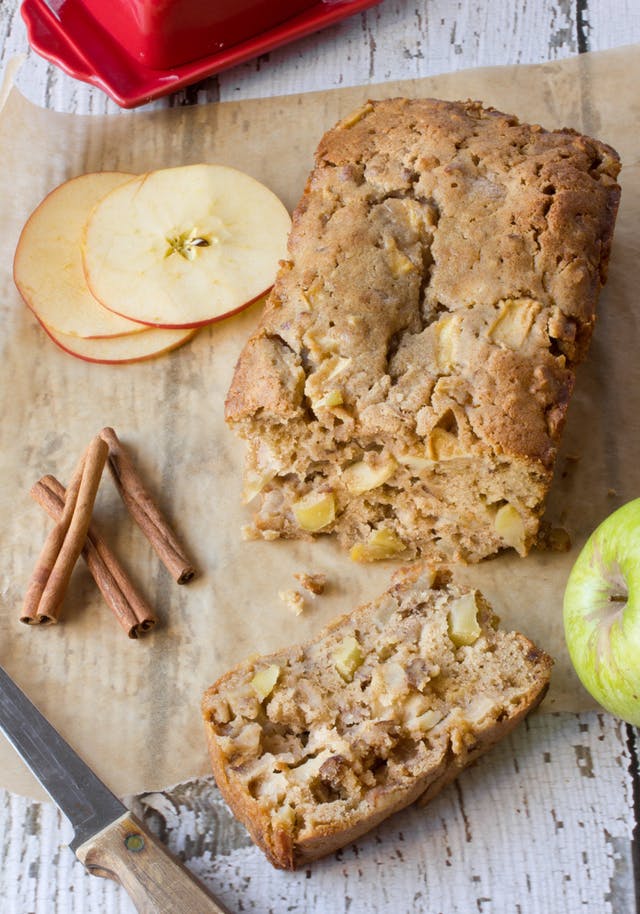 Sweet and moist, this apple loaf is sure to please!This is an autumn and winter family recipe for apples and local grains.
Prep Time

20 min

Cook Time

1 hr

Total Time

1 hr 20 min

Yield

1 loaf

Serving Size

2 slices

Energy

522 cal
Ingredients
4 ounces (1/2 cup) unsalted butter
4½ ounces (1 cup) all-purpose flour (See Recipe Notes)
2¼ ounces (1/2 cup) whole wheat flour (See Recipe Notes)
¼ teaspoon ground cinnamon
4 ounces (1/2 cup) creme fraiche
3 tablespoons apple cider
1 teaspoon vanilla bean paste or pure vanilla extract
3 apples, peeled, cored and diced (See Recipe Notes)
½ cup chopped, toasted pecans
Method
1
Preheat the oven to 350 °F. Grease a loaf pan with butter or cooking spray.
2
Place the butter in a medium skillet and melt over medium heat.
3
Continue cooking, swirling occasionally to prevent burning, until the butter is bubbling and golden brown with a nutty aroma.
4
Combine the butter in a large mixing bowl with the sugar, brown sugar, and eggs. Whisk to combine.
5
Add the flours, baking soda, salt, and cinnamon, and stir with a wooden spoon until just combined.
6
Follow with the creme fraiche, apple cider, vanilla, apples, and pecans; the batter will be very thick.
7
Transfer the batter to the prepared loaf pan and smooth the top.
9
Allow to cool for 20 to 30 minutes before removing from loaf pan.
If you do not have a scale to weigh the flour, use the spoon and sweep method. 

You can substitute sour cream, buttermilk, or plain yogurt for the creme fraiche.

Use a mix of tart and sweet apples, such as Granny Smith, Braeburn, Gala, Golden Delicious, Honey Gold, Jonathan, McIntosh, and/or Honeycrisp.
Nutrition Facts

Serving Size

2 slices

Amount per serving

Calories

522

% Daily Value*

Total Fat

27.7 g

35.51%

Saturated Fat

13 g

65%

Trans Fat

0.6 g

Cholesterol

112.5 mg

37.5%

Sodium

644.3 mg

28.01%

Total Carbohydrate

60.6 g

22.04%

Dietary Fiber

2.6 g

9.29%

Total Sugars

35.6 g

Protein

7.1 g

14.2%

* The % Daily Value (DV) tells you how much a nutrient in a serving of food contributes to a daily diet. 2,000 calories a day is used for general nutrition advice.
Save this recipe: