CARROT-PARSNIP GRATIN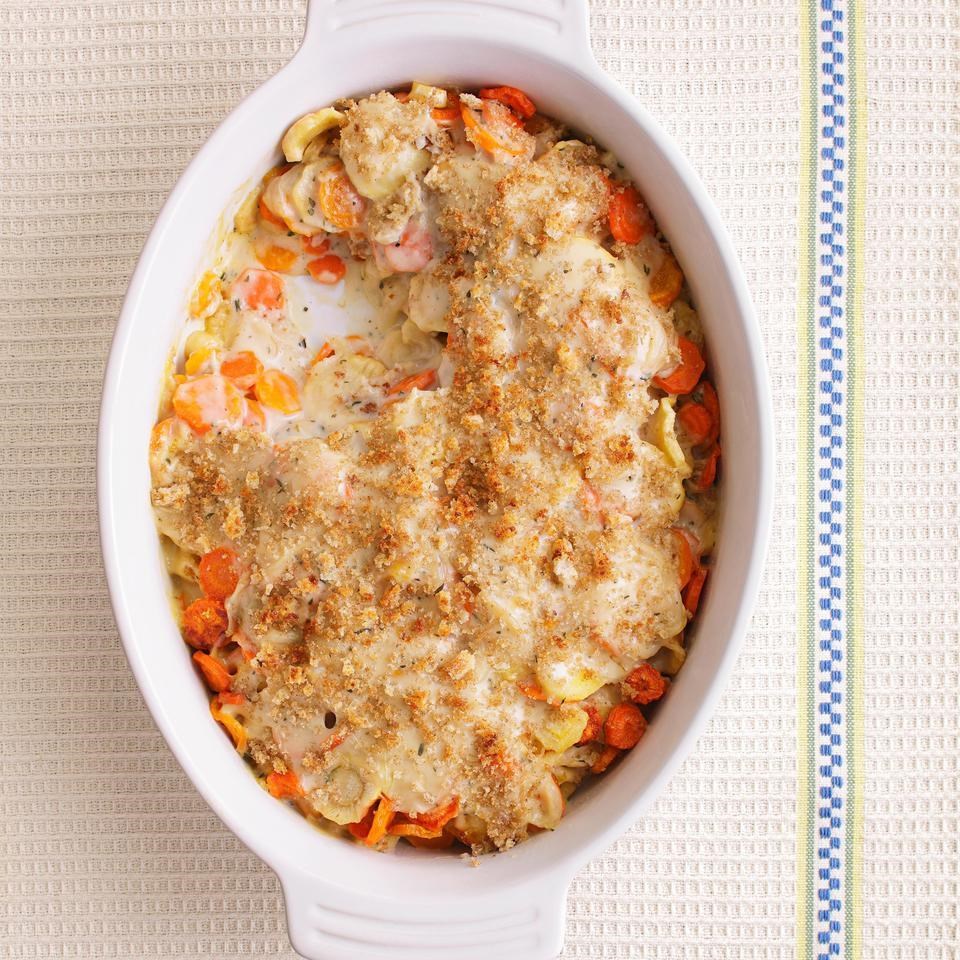 A perfect fit for a cold winter night- creamy and delicious!This is a winter family recipe carrots and parsnips.
Prep Time

30 min

Cook Time

30 min

Total Time

1 hr

Yield

8

Serving Size

1 cup

Energy

192 cal
Course

Appetizer
Vegetable Side Dish

Diet
Ingredients
5 large carrots, peeled and cut into ¼-inch-thick slices (about 4 cups)
5 large parsnips, peeled, cored (see Tips) and cut into ¼-inch-thick slices (about 4 cups)
2-3 tablespoons extra-virgin olive oil, divided
1 medium onion, thinly sliced
3 tablespoons all-purpose flour
¼ teaspoon white or black pepper
1½ cups fresh whole-wheat breadcrumbs (see Tips) or ½ cup shredded or crumbled cheese
Method
1
Position racks in upper and lower third of oven; preheat to 425 °F.
2
Toss carrots and parsnips in a large bowl with 1 tablespoon oil until well coated.
3
Divide between 2 baking sheets and spread in an even layer.
4
Roast the vegetables, stirring once and rotating the pans top to bottom about halfway through, until tender and beginning to brown, 20 to 25 minutes.
5
Meanwhile, heat 1 tablespoon oil in a large saucepan over medium heat.
6
Add onion and cook, stirring frequently, until very soft and golden brown, 5 to 8 minutes.
7
Add flour, salt, and pepper; cook, stirring, for 1 minute more.
8
Add milk and continue to stir, scraping up any browned bits. Cook, stirring, until the sauce bubbles and thickens enough to coat the back of a spoon, about 4 minutes.
9
Remove from the heat. (See Tips)
10
When the vegetables are done, remove from the oven.
11
Preheat the broiler. Transfer half the carrots and parsnips to a 2-quart, broiler-safe baking dish. Spread half the sauce over the vegetables.
12
Add the remaining vegetables and top with the remaining sauce.
13
Combine breadcrumbs and the remaining 1 tablespoon oil in a small bowl (skip this step if you are topping with cheese).
14
Sprinkle the breadcrumb mixture (or cheese) over the gratin.
15
Place under the broiler and broil, watching closely, until the gratin is bubbling and beginning to brown on top, 1 to 5 minutes, depending on your broiler.
16
Let stand for 10 minutes before serving.
MAKE AHEAD TIPS 
Roast vegetables (step 2) up to 30 mins ahead. Prepare the sauce (step 3) cover and refrigerate for up to 1 day ahead. Gently reheat sauce before adding to the vegetables.

PREP TIPS
To prep parsnips; peel with a vegetable peeler, then quarter lengthwise and cut out fibrous, woody core with a paring knife before dicing. 
To make your own fresh breadcrumbs, trim crusts from whole wheat bread. Tear bread into pieces and process in a food processor until coarse crumbs form. 
One slice of bread makes ½ of breadcrumbs. 
To add extra flavor to the cream sauce, at the end of step 3 stir in 1 Tbsp chopped fresh herbs such as thyme, sage or parsley. 
Or make it a cheesy sauce by stirring in ½ shredded or crumbled cheese, such as Swiss, Gruyere, cheddar or Bleu cheese.
Nutrition Facts

8 servings per container

Serving Size

1 cup

Amount per serving

Calories

192

% Daily Value*

Total Fat

7 g

8.97%

Saturated Fat

1 g

5%

Cholesterol

4 mg

1.33%

Sodium

341 mg

14.83%

Total Carbohydrate

29 g

10.55%

Dietary Fiber

5 g

17.86%

Total Sugars

10 g

Protein

6 g

12%

* The % Daily Value (DV) tells you how much a nutrient in a serving of food contributes to a daily diet. 2,000 calories a day is used for general nutrition advice.
Save this recipe: