Mac and Cheese with Broccoli
Author:
Adapted from Make It Local, Recipes for Alaska's Children
Recipe type:
Warm entree, HACCP Process 2
Cuisine:
A great way to incorporate local broccoli into a food young children love, mac and cheese!
Prep time:
Cook time:
Total time:
This is a CACFP summer recipe for local Broccoli.
USDA Meal Components: 1½ meat/meat alternate, 1 oz WGR grain, ⅛ cup dark green vegetable.
Cooking and Prep level: basic.
Ingredients
3½ cups Macaroni, whole wheat, dry
6 cups Broccoli, fresh, chopped into ½ inch pieces
2½ cups Milk, low-fat
2½ tsp dry Mustard
¼ tsp Salt
1 Tbsp + 2 tsp Onion Powder
2½ tsp Garlic Powder
2½ tsp Sugar
¼ cup + 1 Tbsp Margarine (non-transfat) cut into ½ inch cubes
5 cups Cheddar Cheese, shredded
5 cups Mozzarella Cheese, shredded
Instructions
Cook macaroni according to package until just al dente. DO NOT OVERCOOK. Drain well.
Steam or blanche broccoli until just tender-crisp. Drain.
Add pasta, milk, and seasonings to a large pot. Cook over medium heat while adding margarine a little at a time until melted and incorporated.
Slowly add cheeses a little at a time until melted.
Cook over low heat until sauce thickens.
Add broccoli and stir gently until combined.
Serve in 1 cup portions.
Notes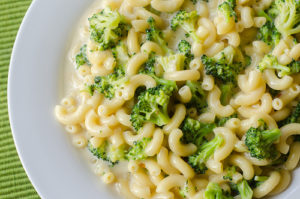 Nutrition Information
Serving size:
1 cup/ 126 g
Calories:
230
Fat:
9 g
Saturated fat:
4.5 g
Trans fat:
0
Carbohydrates:
21 g
Sugar:
5 g
Sodium:
450 mg
Fiber:
2 g
Protein:
17 g
Cholesterol:
20 mg