Kenyan Smashed Veggies (Irio)
Author:
Adapted from the USDA Mixing Bowl.
Recipe type:
Warm vegetable side dish. HACCP Process 2, same day service.
Cuisine:
Irio, a simple dish of mashed potatoes, corn, and green vegetables is a traditional Kenyan dish. This delicious version of the recipe uses local potatoes, chard, and corn to create a yummy veggie dish!
Prep time:
Cook time:
Total time:
This is a CACFP / food service recipe for potatoes, corn, chard, and peas.
CACFP Crediting Information: ¼ cup (a No. 16 scoop) provides ¼ cup vegetable.
Cooking and prep level: Intermediate.
Ingredients
1 lb 13 oz Potatoes, yellow, local, fresh, peeled, quartered
1 lb 1 oz Green peas, fresh shelled (frozen may be substituted)
2 T Canola oil
8 cloves Garlic, fresh, minced
4 oz packed Swiss chard, raw, local, chopped into long, thin strips (chiffonade)
9 oz Corn, local fresh roasted and cut from the cob OR frozen corn
1 T + 1 tsp Sage, dried
1 tsp Onion Powder
1 tsp Salt
1 tsp Pepper
Instructions
Add the potatoes to a large stockpot and cover completely with cold water. For 25 servings, about 2 qts. ⅓ cup. For 50 servings, about 1 gallon ⅔ cups.
Bring to a boil over medium-high heat. Boil for 15 minutes.
Add the peas to the pot of boiling potatoes and continue to boil the vegetables for an additional 3 minutes, or until potatoes are tender.
Critical Control Point: Heat to 140°F or higher for at least 15 seconds.
Drain the water from the potatoes and peas, reserving about ½ cup of the cooking water.
Mash potatoes and peas with a potato masher or mixer. Do not over mix. If the mixture is too dry, add reserved water, 1 tablespoon at a time until the desired consistency is reached.
Heat oil in a medium saute pan.
Saute minced garlic, swiss chard, corn, sage, onion powder, salt, and pepper over medium-high heat until onions are tender and sage is toasted about 5-7 minutes.
Stir the sauteed vegetables into the hot potato-pea mash.
Taste for seasonings, adjust if needed.
Serve ¼ cup (a No. 16 scoop).
Critical Control Point: Hold at 140°F or higher.
Notes
Originally a dish of the Kikuyu people, irio is a hearty and nutritious accompaniment to meals that has become popular throughout Kenya. It has many variations, but potatoes and peas are the staple ingredients with corn the most common addition.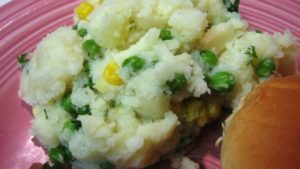 Nutrition Information
Serving size:
¼ cup
Calories:
58
Fat:
1 g
Carbohydrates:
10 g
Sodium:
150 mg
Fiber:
2 g
Protein:
2 g