CHICKEN CAESAR STYLE SALAD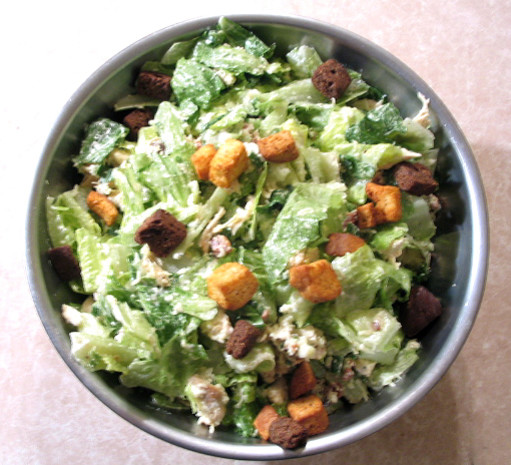 This easy to serve salad with Caesar flavored diced USDA chicken will become a student favoite and add a flavor punch to routine salads.This is a summer school food service recipe for Cucumbers and Lettuce.Cooking and prep level: Basic.Adapted from the Produce for Better Health Foundation's Fruit & Veggie Quantity Cookbook, Oct 2011, the New Hampshire Obesity Prevention Program
Prep Time

2 hr

Cook Time

35 min

Total Time

2 hr 35 min

Yield

100

Serving Size

1 salad

Energy

123 cal
Course

USDA Meal Components

Protein:1 ½ oz.
Dark Green Veg ½ c- credits as ¼ c
Other Veg ¾ c
Ingredients
9 lbs 6 oz USDA Diced Cooked Chicken, defrosted, drained
4 Tbsp Caesar Dry Seasoning (see below)
4 lbs 9 oz Iceberg Lettuce, chopped
9 lbs 6 oz Romaine Lettuce, chopped
9 lbs 6 oz Cucumbers, chopped
7 lbs 8 oz Celery, chopped
3 cups Parmesan Cheese, grated
Croutons
4 lbs Whole wheat bread, cut into cubes
Dressing
½ cup Garlic, fresh minced
Method
1
Place chicken in a tote or large bowl. Add oil and toss. Add Caesar seasoning mix and toss to distribute well.
2
CCP: Preheat Oven: Convection 350 F, Conventional 375 F
3
Place chicken on lined sheet pans in a single layer and bake conventional oven for approx. 20 minutes, convection oven approx, 15 minutes, until chicken just begins to brown.
4
CCP: Bake until internal temperature is 145 F or more for 15 seconds.
5
CCP: Remove and cool to 41 F within 4 hours.
6
Coat a full sheet pan w/ cooking spray.
7
Spread bread cubes evenly, spritz with cooking spray.
8
Bake 10-15 minutes until golden. Cool.
For the Dressing
9
Whisk by hand or in a food processor lemon juice, mustard, garlic, and pepper until smooth. Add oil in a thin stream to incorporate. Set aside.
10
Place croutons in a large tote and toss with a small drizzle of dressing to coat.
11
Add lettuces and other vegetables, plus the Parmesan to the tote. Toss. Add remaining dressing while tossing to coat.
To Serve
12
Lay out large boats on sheet pans, 50 boats for 50 servings, 100 for 100 servings.
13
Add 1 cup (approx. 1.7 oz) lettuce mix to each boat. Top with 1 ½ oz chicken.
14
CCP: Hold salads at a minimum of 41 F through service.
Caesar Dry Seasoning Blend: click here.
The Origins of Caesar Salad:
Legend has it that Italian-American restaurateur Caesar Cardini invented the salad in 1924 in Tijuana, Mexico. According to The Telegraph, Cardini owned a restaurant in the popular tourist destination to attract Americans frustrated by Prohibition. The exact story is disputed, but the general consensus is that over Fourth of July weekend, Cardini threw together a bunch of ingredients he had on hand and served his concoction to his friends. Needless to say, the improvised dish caught on.
Excerpt from huffingtonpost.com.

What's Cooking America says the original recipe included romaine, garlic, croutons, and Parmesan cheese, boiled eggs, olive oil and Worcestershire sauce. Supposedly Cardini's brother, Alex, came to Tijuana in 1926 and added anchovies to the salad. He called his version the Aviator's salad. What's Cooking America says that this version was so well-received that it became the standard and was renamed the Caesar Salad!
Nutrition Facts

100 servings per container

Serving Size

1 salad

Amount per serving

Calories

123

% Daily Value*

Total Fat

7.9 g

10.13%

Saturated Fat

1.3 g

6.5%

Trans Fat

0 g

Cholesterol

35 mg

11.67%

Sodium

154 mg

6.7%

Total Carbohydrate

1.6 g

0.58%

Dietary Fiber

0.2 g

0.71%

Protein

10.6 g

21.2%

* The % Daily Value (DV) tells you how much a nutrient in a serving of food contributes to a daily diet. 2,000 calories a day is used for general nutrition advice.
Save this recipe: