CALABACITAS CON ELOTE (ZUCCHINI WITH CORN)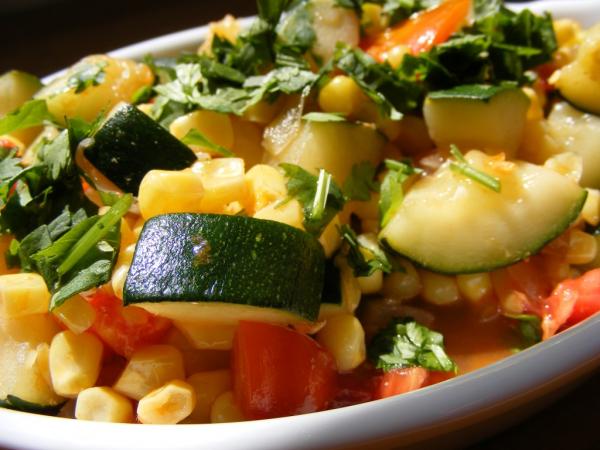 This is an easy dish to make in summer using locally grown veggies or your garden veggies. Use up some of that zucchini that is growing all over your garden patch!This is a summer family recipe for summer Squash, Bell Peppers, local Onions and Sweet Corn.
Prep Time

15 min

Cook Time

10 min

Total Time

25 min

Yield

4
Ingredients
¾ pound local Zucchini, sliced
1 Green Bell Pepper, sliced
1 Red Bell Pepper, sliced
¾ pound Tomatoes, fresh, diced (outside tomato season, use 1 can of diced tomato)
2 ears Sweet Corn, kernels sliced off the cob (raw)
1 Tablespoon vegetable oil
Ground Black Pepper, to taste
Cojita cheese, 4 ounces (Mexican crumbling cheese) (optional)
Method
1
Heat oil in a pan; add green and red peppers and cook, stirring frequently, about 3 minutes.
2
Add onion and cook another 3 minutes, stirring frequently.
3
Add zucchini, corn, salt, and pepper cook 5 minutes, stirring frequently.
4
Mix in diced tomatoes, saute 3 minutes, remove from heat and serve.
5
Add a topping of crumbled Cojita cheese once portioned.
Calabacitas con Elote is often called Mexican Succotash. This recipe can be a side dish or a main dish if you want. It has many variations in Mexico; cooks may add cream and cheese, roasted Poblano pepper strips or diced pork. The combinations are endless!
Nutrition Facts

4 servings per container

Amount per serving

Calories

0

% Daily Value*

Total Fat

4.7 g

6.03%

Saturated Fat

0.9 g

4.5%

Cholesterol

0 mg

0%

Sodium

326 mg

14.17%

Total Carbohydrate

25.2 g

9.16%

Dietary Fiber

5.4 g

19.29%

Total Sugars

8.7 g

Protein

5 g

10%

Vitamin D (Cholecalciferol)

0 IU

0%

Calcium

33 mg

2.54%

Iron

3 mg

16.67%

Potassium

710 mg

15.11%

* The % Daily Value (DV) tells you how much a nutrient in a serving of food contributes to a daily diet. 2,000 calories a day is used for general nutrition advice.
Save this recipe: