Herry's Blueberry Lemon Parfait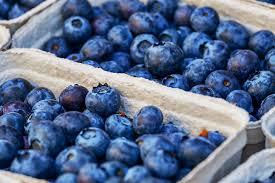 An easy way to utilize local or homemade yogurt and local, fresh blueberries in a tasty breakfast or snack!This is a CACFP summer recipe for blueberries and local dairy.Cooking and prep level: Basic.
Prep Time

15 min

Cook Time

25 min

Total Time

40 min

Yield

4

Serving Size

(1)

HAACP Process

no cook

HAACP Process

[Enter here]
Course

USDA Meal Components

CACFP crediting: 4 servings breakfast with 3/4 cup of milk or as a snack for ages 1-5

Diet
Ingredients
1 cup Lemon Yogurt (Yogurt must meet the new meal pattern sugar limits.)
2 cups local Blueberries
4 Tablespoons Graham Crackers, crushed
Method
1
In each of 4 glasses, layer 1/4 cup yogurt, 1/2 cup blueberries, and 1 Tablespoon graham cracker crumbs. Serve with 3/4 cup of milk for a complete breakfast or without milk as a snack. 
Want to avoid high-sugar yogurts? Make your own yogurt and educate your little eaters!
It's easy to make yogurt right in your own kitchen! Education.com has a short step-by-step process that you can share with your pre-K kids. Though these little tykes cannot participate in the cooking activity you can share the process, and of course, the end results! 
Click here to see the recipe and lesson. 
Save this recipe: