ROASTED BEETS WITH RASPBERRY VINAIGRETTE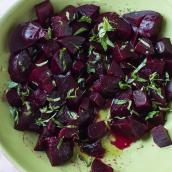 When you combine the earthy flavor of beets with a tangy dressing the resulting complimentary flavors will win over your kids!This is a winter family recipe for beets.
Prep Time

15 min

Cook Time

40 min

Total Time

55 min

Yield

6
Ingredients
3 tablespoons good olive oil
1½ teaspoons fresh thyme leaves, minced
1 teaspoon freshly ground black pepper
2 tablespoons raspberry vinegar
Method
1
Preheat the oven to 400 F degrees.
2
Remove the tops and the roots of the beets and peel each one with a vegetable peeler.
3
Cut the beets in 1½-inch chunks. (Small beets can be halved, medium ones cut in quarters, and large beets cut in eighths.)
4
Place the cut beets on a baking sheet and toss with the olive oil, thyme leaves, salt, and pepper.
5
Roast for 35 to 40 minutes, turning once or twice with a spatula until the beets are tender. Remove from the oven and immediately toss with the vinegar and orange juice.
6
Sprinkle with salt and pepper and serve warm.
Do you have a tough time getting your kids to eat beets?
Children are more invested in a meal if they help with its preparation. Taking your kids with you to the farmers market or grocery store and letting them pick the size and color of the beets you buy can make them far more excited to eat them later. Better yet, grow beets in a garden patch, or join a community garden and plant beets. Teach your kids how to plant and harvest their own beets. Letting them help with watering, weeding, harvesting, and dinner prep gives them a sense of pride and makes them more enthusiastic and cooperative at meal time.
Nutrition Facts

6 servings per container

Amount per serving

Calories

0

% Daily Value*

* The % Daily Value (DV) tells you how much a nutrient in a serving of food contributes to a daily diet. 2,000 calories a day is used for general nutrition advice.
Save this recipe: