FAST FIVE VEGGIE STIR FRY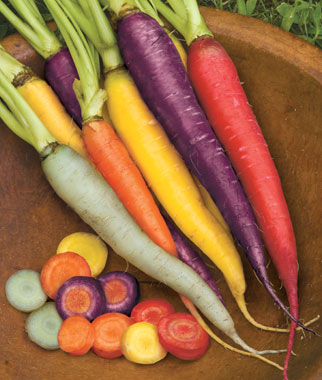 This recipe was developed for a IFSN school foodservice training, is easy to prep and cook, and has plenty of veggie punch!This is a spring, summer, and autumn school food service recipe for Spinach, Broccoli, Cabbage, and Carrots.Cooking and prep level: Basic.Adapted from: Chef Greg Christian
Prep Time

1 hr

Cook Time

15 min

Total Time

1 hr 15 min

Yield

100

Serving Size

2/3 cup

Energy

99 cal
Course

Main Course
Hot Vegetable Dish

USDA Meal Components

½ cup dark green vegetable
¼ cup other vegetable
¼ cup dark orange vegetable

Diet
Ingredients
10 lbs Broccoli, fresh cut into bite-size pieces
10 lbs Spinach, cut or torn in smaller pieces
6 lbs 5 oz Onion, fresh large chop
10 lbs Carrots, fresh cut into bite-size pieces
1 cup Garlic, fresh minced
Method
1
Using a tilt skillet or rondeau, heat pan until very hot.
2
Carefully add oil to the pan. Heat oil for 3 minutes.
3
Add carrots to the pan. Cook 1 minute, stirring constantly.
4
Add broccoli and cabbage, cook 1 minute, stirring constantly.
5
Add onion, garlic, spinach, salt and pepper. Cook 2 minutes, stirring constantly.
6
Transfer to hotel pans for service. Serve immediately using a #6 scoop.
This recipe can be used to feature carrots, broccoli, cabbage, or spinach for the Harvest of the Month program. You can serve this recipe with rice or with oriental noodles and an added protein, like tofu or a piece of string cheese, to make a complete entree.
Feature Local Carrots:
Local carrots come in many colors! Try using multiple colors of carrots in a taste test prior to utilizing them in a recipe. A "Rainbow of Carrots", with a focus on food education, is a captivating lesson for K-3 students. Share information on how and where carrots grow and the many carrot colors available. Then share a taste test to determine the sweetest of the carrot colors!
Nutrition Facts

100 servings per container

Serving Size

2/3 cup

Amount per serving

Calories

99

% Daily Value*

Total Fat

2.7 g

3.46%

Saturated Fat

0.4 g

2%

Trans Fat

0 g

Cholesterol

0 mg

0%

Sodium

229 mg

9.96%

Total Carbohydrate

17 g

6.18%

Dietary Fiber

4.6 g

16.43%

Total Sugars

4.9 g

Protein

4.4 g

8.8%

* The % Daily Value (DV) tells you how much a nutrient in a serving of food contributes to a daily diet. 2,000 calories a day is used for general nutrition advice.
Save this recipe: