FARMER'S MARKET POTATO SALAD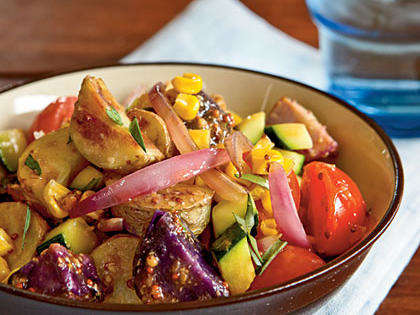 A wonderful mix of farmer's market potatoes, fresh corn and zucchini makes this roasted, cold salad exciting and delicious.This is a summer and autumn family recipe for Potatoes, Summer Squash, fresh Herbs, and Tomatoes.
Prep Time

20 min

Cook Time

45 min

Total Time

1 hr 5 min

Yield

6 cups

Serving Size

1 cup

Energy

198 cal
Ingredients
1 cup fresh corn kernels (about 2 ears)
2 pounds fingerling potatoes, cut into 1-inch pieces
2½ tablespoons olive oil, divided
2 tablespoons chopped fresh tarragon
2 tablespoons cider vinegar
2 tablespoons whole-grain Dijon mustard
½ teaspoon hot pepper sauce (such as Tabasco)
½ teaspoon freshly ground black pepper
¾ cup vertically sliced red onion
1 cup cherry tomatoes, halved
Method
2
Place corn and potatoes on a jelly-roll pan. Drizzle vegetables with 1 tablespoon oil; toss to coat. Bake at 425° F for 30 minutes or until potatoes are tender.
3
Place potato mixture in a large bowl to cool.
4
Combine tarragon and next 5 ingredients (through pepper) in a small bowl, stirring with a whisk. Gradually add remaining 1½ tablespoons oil, stirring constantly with a whisk.
5
Drizzle potato mixture with dressing; toss gently to coat.
6
Heat a large skillet over medium heat. Coat pan with cooking spray.
7
Add onion and zucchini to pan; cook 4 minutes or until lightly browned, stirring occasionally.
8
Add zucchini mixture and tomatoes to potato mixture; toss gently to combine.
Look for a mix of red, purple, and brown-skinned fingerling potatoes, so named because of their oblong shapes, to prepare this stunning salad. If you can't find them, substitute small red potatoes. You can serve this dish at room temperature just after it's tossed together, or make it ahead, refrigerate, and serve chilled.
Nutrition Facts

6 servings per container

Serving Size

1 cup

Amount per serving

Calories

198

% Daily Value*

Total Fat

6.6 g

8.46%

Saturated Fat

0.9 g

4.5%

Trans Fat

0 g

Monounsaturated Fat

4.8 g

Cholesterol

0 mg

0%

Sodium

438 mg

19.04%

Total Carbohydrate

32.7 g

11.89%

Dietary Fiber

3.8 g

13.57%

Protein

4.5 g

9%

* The % Daily Value (DV) tells you how much a nutrient in a serving of food contributes to a daily diet. 2,000 calories a day is used for general nutrition advice.
Save this recipe: