CHICKEN CAESAR SALAD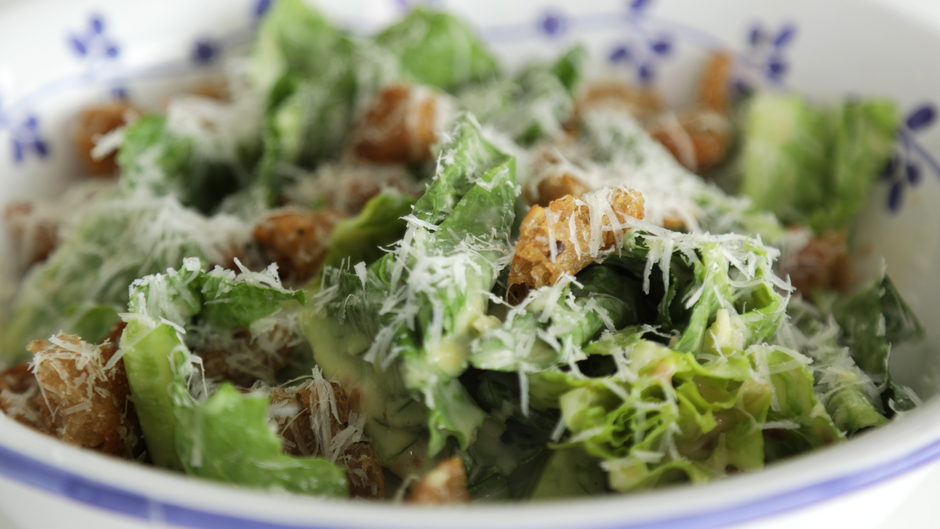 A crunchy delight, this salad uses local lettuce in the height of the season.This is a CACFP recipe for lettuce.
Prep Time

30 min

Cook Time

20 min

Total Time

50 min

Yield

25

Serving Size

1 cup lettuce mixture, 2 ounces diced chicken

HAACP Process

2
Course

Appetizer
Main Course
Salad

USDA Meal Components

Meat/Meat Alt: 2 oz eq Vegetable: ½ cup
Ingredients
4 lbs 6 oz boneless, skinless Chicken Breast
3 lbs 4 oz Romaine Lettuce
2 cups grated Parmesan Cheese
3 cups Caesar Salad Dressing
Method
1
CCP: Preheat oven to 375°F
2
Trim any excess fat off chicken breasts. Cut chicken breasts into strips.
3
Sprinkle chicken strips with salt and pepper.
4
Coat baking sheet with cooking spray. Place chicken strips on baking sheet, evenly spaced. Spray pieces lightly with cooking spray.
5
CCP: Bake until internal temperature reaches 165°F, about 20-25 minutes.
6
While chicken is cooling, wash and cut romaine lettuce into pieces.
7
When chicken is cool enough to handle dice chicken.
8
In a large bowl just before service toss lettuce, Parmesan cheese, salad dressing,
and croutons.
Note: Salad serving is 1 cup lettuce mixture with 2 ounces of diced chicken served on top
Ages 1-2: ½ salad
Ages 3-5: 1 salad
Ages 6-12, 13-18: 1 salad
Nutrition Facts

25 servings per container

Serving Size

1 cup lettuce mixture, 2 ounces diced chicken

Amount per serving

Calories

0

% Daily Value*

Trans Fat

0 g

* The % Daily Value (DV) tells you how much a nutrient in a serving of food contributes to a daily diet. 2,000 calories a day is used for general nutrition advice.
Save this recipe: