CHEESY SPINACH MUNCHY CAKES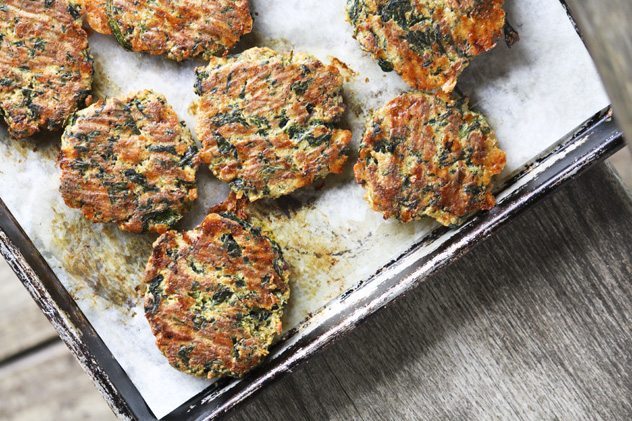 These little spinach munchy cakes are packed with all the culinary joy that results when spinach, bacon, and Cheddar get together.This is a spring family recipe for spinach.
Prep Time

15 min

Cook Time

25 min

Total Time

40 min

Yield

15

Serving Size

1 patty
Course

Appetizer
Snack
Vegetable Side Dish
Ingredients
1 pound fresh spinach. lightly blanched
3 cups shredded Cheddar cheese, extra sharp
1½ cups fine dry bread crumbs seasoned or plain
½ pound of bacon cooked, drained and crumbled
3 tablespoons finely minced onion
¼ teaspoon dry mustard powder
freshly ground black pepper to taste
Method
2
Line a baking sheet (or two, depending on size) with parchment paper.
3
Stir all ingredients together until even.
4
Scoop about ¼-1/3 cup of the mixture (an amount about equal to the size of a plum) and form into a patty. Place patties on prepared pan.
5
Repeat until all of the mixture is formed into patties.
6
Bake for 25-30 minutes, flipping the patties after about 15 minutes until they are all golden brown and crisp on the outside.
7
Serve hot, warm or cool with your preferred hot sauce.
Nutrition Facts

15 servings per container

Serving Size

1 patty

Amount per serving

Calories

0

% Daily Value*

* The % Daily Value (DV) tells you how much a nutrient in a serving of food contributes to a daily diet. 2,000 calories a day is used for general nutrition advice.
Save this recipe: