Basic Pickling Spice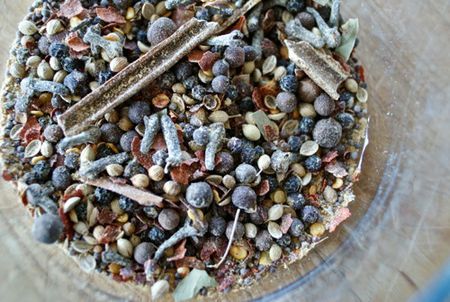 By changing a few ingredients you can use this spice blend on several different veggies for icebox pickling. This is a food service and CACFP recipe for Spice It Up!Cooking and prep level: Basic.
Prep Time

15 min

Yield

1.2 cup

HAACP Process

no cook
Ingredients
1 tablespoon allspice berries (only whole allspice berries work here; ground allspice will be entirely too sharp and bitter)
1 tablespoon black peppercorns (whole peppercorns, not ground pepper)
1 tablespoon black mustard seeds (yellow work too, but won't provide the same visual effect in the jar)
1 tablespoon cloves (only whole cloves work; ground cloves don't add the right flavor)
1 tablespoon coriander seeds
1 tablespoon red pepper flakes (optional; depending on your heat preference)
2 teaspoons ground dried ginger (not fresh, it will be too sharp)
1 teaspoon freshly grated nutmeg (optional, the warm homey flavor of nutmeg adds some depth of flavor)
2 bay leaves (dried and crumbled)
For dill pickles:
Add ½ cup Dill, fresh, rough chopped for dilled veggies like dill pickles, green beans and asparagus.
Method
1
In a bowl combine all ingredients. Add your vinegar/sugar mixture to the spices to create a brine. Use immediately.
Don't be afraid to experiment with different seasonings in your pickling spice. 
Have you tried pickling fruits? You can pickle fresh peaches, pears, watermelon, apples, crab apple, plums and even grapes! Educate your kids and sample a new taste sensation this summer!
Save this recipe: