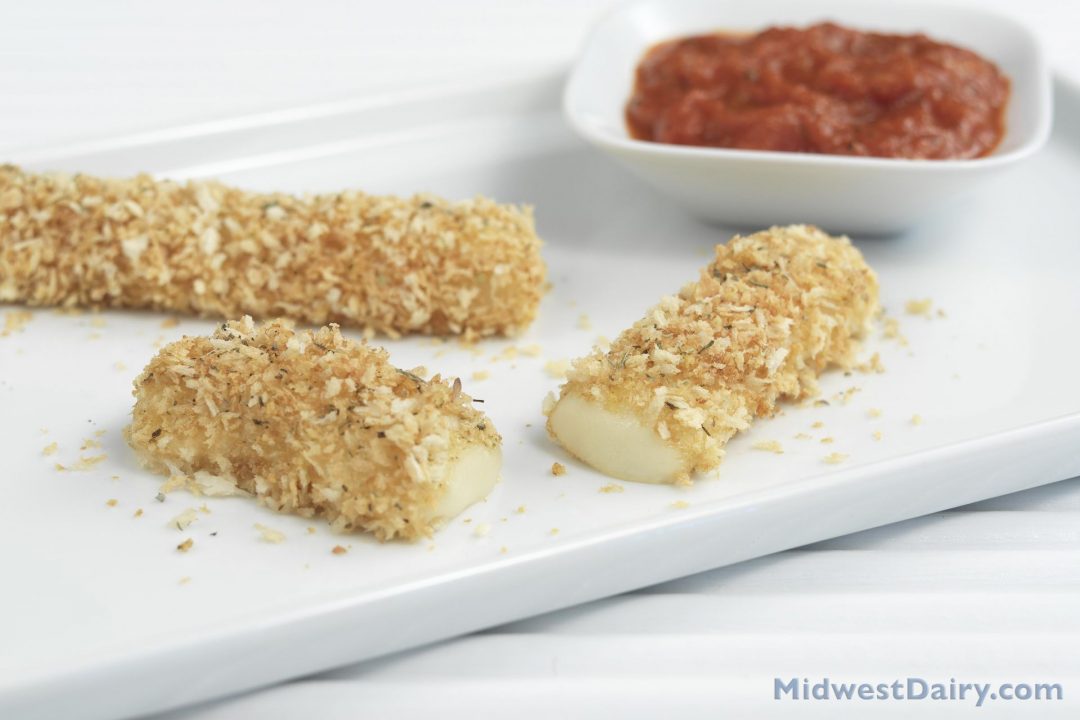 This mozzarella sticks recipe is a reduced-fat, baked version of a finger-food favorite.This is a family winter recipe for local Dairy.
Prep Time

10 min

Cook Time

20 min

Total Time

30 min

Yield

6

Serving Size

2 pieces

Energy

159 cal
Ingredients
cooking spray
1 reduced-fat Mozzarella string cheese 12-ounce package
1 egg
1 teaspoon Italian seasoning
8 tablespoons Japanese panko breadcrumbs
½ cup marinara sauce prepared, warmed
Method
1
Position rack in upper third of oven and preheat it to 350° F. Line a baking sheet with foil and spray lightly with cooking spray.
2
Remove cheese from packaging and set aside.
3
In a small bowl, whisk egg until foamy.
4
In a small non-stick skillet, mix Italian seasoning with bread crumbs and place over medium heat.
5
Cook and stir bread crumbs until lightly browned about 5 minutes.
6
Dip one piece of string cheese in egg until coated and then into toasted bread crumbs, coating completely. Redip the string cheese in egg and again in bread crumbs, if desired.
8
Repeat with remaining string cheese and place on baking sheet 1½ inches apart. Spray string cheese lightly with cooking spray.
9
Bake 5 to 6 minutes or until heated through.
10
Note: Cheese may melt slightly and lose shape. Simply press it back into place. Serve with warmed marinara sauce for dipping.
The nutritional breakdown is for the cheese sticks only. Marinara sauce nutritional values will be based on the product you choose to use.
Nutrition Facts

6 servings per container

Serving Size

2 pieces

Amount per serving

Calories

159

% Daily Value*

Total Fat

6 g

7.69%

Saturated Fat

3 g

15%

Trans Fat

0 g

Cholesterol

51 mg

17%

Sodium

283 mg

12.3%

Total Carbohydrate

18 g

6.55%

Dietary Fiber

1 g

3.57%

Total Sugars

3 g

Protein

11 g

22%

* The % Daily Value (DV) tells you how much a nutrient in a serving of food contributes to a daily diet. 2,000 calories a day is used for general nutrition advice.
Save this recipe: