BAKED CHICKEN AND SPINACH FLAUTAS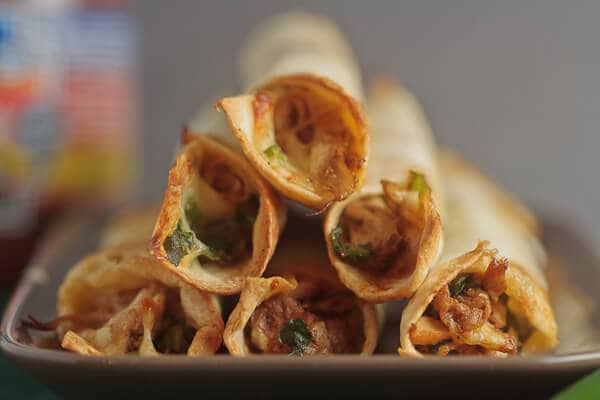 Baked flautas stuffed with seasoned, shredded chicken, spinach, and cheese are crispy, but don't have the greasiness of fried versions.This is a spring family recipe for Spinach and Hot Peppers.
Prep Time

25 min

Cook Time

20 min

Total Time

45 min

Yield

10

Serving Size

1

Energy

181 cal
Ingredients
1 pound boneless, skinless Chicken Thighs (about 4)
1 Jalapeno Pepper, minced
3 cups Baby Spinach, chopped
5 burrito-size Flour Tortillas (9 inches)
6 ounces Queso Quesadilla or other soft cheese like Monterey Jack, shredded
1 teaspoon Olive Oil, or cooking spray
Method
1
Preheat the oven to 450 F.
2
Put the chicken thighs in a deep sided saute pan and cover with the beer and water. Bring to a boil, then reduce heat and simmer for 10 minutes. Remove the chicken from the liquid and shred it. Mix together the chicken and seasonings.
3
Pour out all but ¼ cup of the cooking liquid. Add the jalapeno and spinach and cook over low heat until for 2-3 minutes, or until the spinach is wilted.
4
Cut the tortillas in half.
5
Spoon 1/10th of the chicken (about 1 tablespoon) along the long edge of a tortilla. Repeat with the spinach and cheese. Roll the tortilla up, starting with the straight edge. Place seam-side down on an oiled baking sheet. Repeat with remaining tortillas.
6
Brush the flautas with olive oil or spray with cooking spray.
7
Bake for 10 minutes, then turn them over and bake for until 10 minutes, or until crispy.
Nutrition Facts

10 servings per container

Serving Size

1

Amount per serving

Calories

181

% Daily Value*

Total Fat

9 g

11.54%

Trans Fat

0 g

Total Carbohydrate

6.3 g

2.29%

Protein

18.5 g

37%

* The % Daily Value (DV) tells you how much a nutrient in a serving of food contributes to a daily diet. 2,000 calories a day is used for general nutrition advice.
Save this recipe: