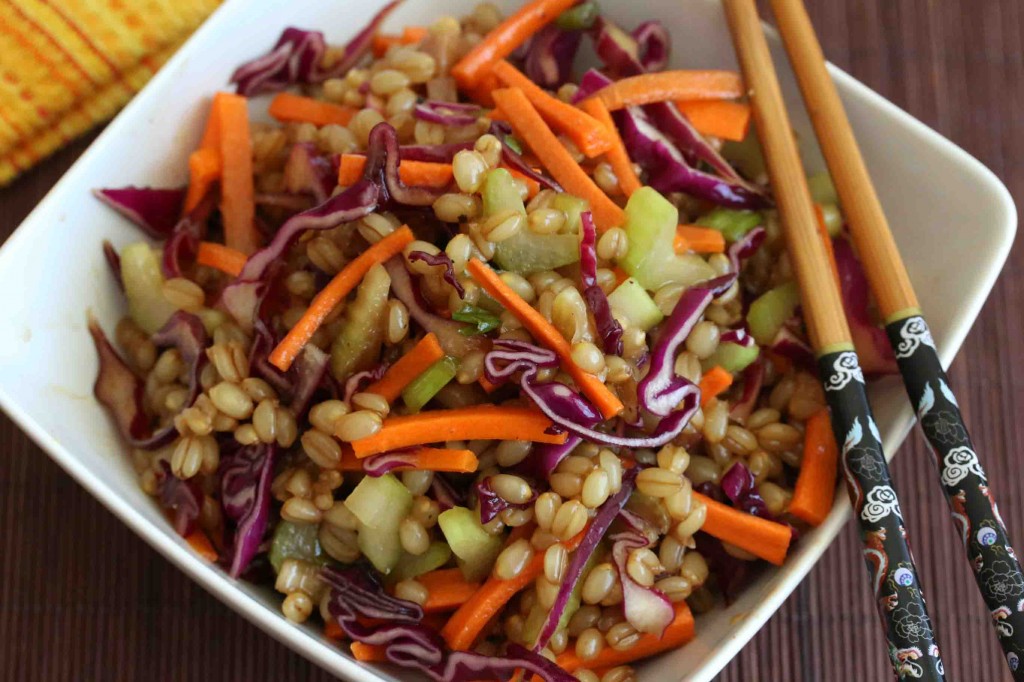 Wheat berries are whole grains and are an excellent source of dietary fiber and protein. Plus, they leave you fill-up and satisfied!This is a family recipe for local grains, carrots, and cabbage.
Prep Time

10 min

Cook Time

25 min

Total Time

35 min

Yield

6

Serving Size

1 cup
Ingredients
For the salad
1 cup uncooked soft wheat berries (can substitute grain of choice, e.g. quinoa, spelt, millet, sorghum, etc)
¾ cup julienned carrots
¾ cup shredded red cabbage
¾ cup finely chopped celery
½ cup sliced green onions
⅓ cup chopped water chestnuts
For the dressing
3 tablespoons extra virgin olive oil
2 tablespoons toasted sesame oil
2 tablespoons hoisin sauce or make your own
2 tablespoons soy sauce
2 tablespoons rice vinegar
2 teaspoons honey
½ teaspoon salt
½ teaspoon freshly ground black pepper
Method
1
To cook the wheat berries: Bring 4 cups of water to boil in a saucepan. Add the salt and the soft wheat berries. Reduce to a simmer and cook until the wheat berries are tender, about an hour. Drain. Set aside and let cool (can be warm but not hot). Note: If you soak the wheat berries overnight it cuts the cooking time roughly in half.
2
Combine the wheat berries and all the vegetables in a large mixing bowl.
3
Add the vinaigrette ingredients in a small bowl and whisk to combine. Pour the vinaigrette over the salad and stir to combine. Let the salad sit for at least 1-2 hours before serving. Best served at room temperature.
Local grains are available through specialty markets, farmer's markets, and local millers.
Nutrition Facts

Serving Size

1 cup

Amount per serving

Calories

0

% Daily Value*

* The % Daily Value (DV) tells you how much a nutrient in a serving of food contributes to a daily diet. 2,000 calories a day is used for general nutrition advice.
Save this recipe: