Skillet Chili Lime Corn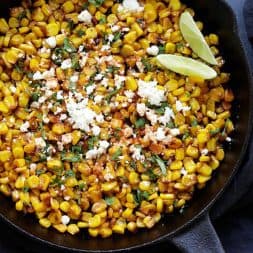 A quick and tasty recipe using sweet corn at the height of season, with a zesty kick of lime and jalapeno.This is a summer family recipe for Sweet Corn, Hot Peppers, and fresh Herbs.
Prep Time

5 min

Cook Time

10 min

Total Time

15 min

Yield

3
Ingredients
12 oz fresh corn kernels or frozen corn
2 tablespoons melted butter
½ jalapeno pepper, seeded and finely diced
⅛ teaspoon cayenne pepper
1 tablespoon chopped cilantro leaves
3 tablespoons crumbled Mexican queso fresco or queso blanco or Cojita cheese
Method
1
Heat up a skillet on medium heat.
2
Add the melted butter and diced jalapeno.
3
Add the corn and stir, cooking for 4 minutes.
4
Add the honey, cayenne pepper, salt, stir to cook well until the corn is caramelized.
5
Add the lime juice, stir to mix well.
6
Top with the cilantro and cheese, serve immediately.
Nutrition Facts

3 servings per container

Amount per serving

Calories

0

% Daily Value*

* The % Daily Value (DV) tells you how much a nutrient in a serving of food contributes to a daily diet. 2,000 calories a day is used for general nutrition advice.
Save this recipe: