VEGGIE QUESADILLA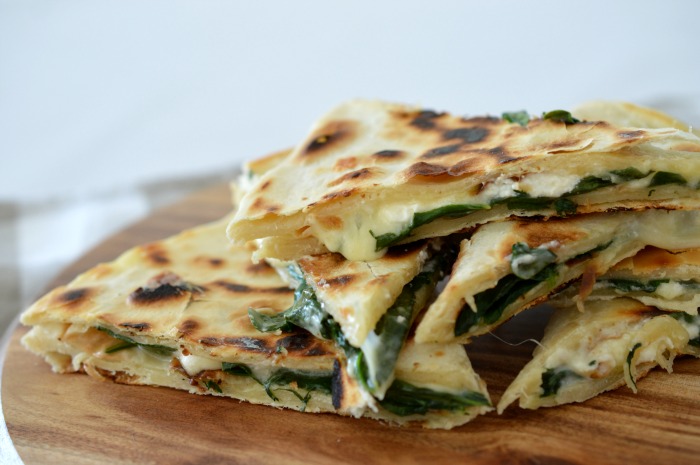 The addition of an oven "grilling" step gives these yummy quesadillas a crunchy texture balanced by the cheesy goodness inside.This is a school food service spring and summer recipe for bell peppers and spinach.
Prep Time

40 min

Cook Time

15 min

Total Time

55 min

Yield

100

Serving Size

1 piece (6.5 oz)

Energy

288 cal
Cuisine

Course

Appetizer
Main Course
Snack

USDA Meal Components

Dark Green Vegetable: ½ c credits as ¼ cup
grains 1 ounce
meat/meat alternate ½ ounce

Diet
Ingredients
16 lbs Spinach, fresh partially trimmed
5½ lbs green Bell Peppers, fresh chopped
5½ lbs Onions, fresh finely chopped
1 #10 can USDA Refried Beans, low sodium
6 lb 4 oz Mozzarella Cheese, low moisture, part skim shredded
100 8 inch Tortillas, whole wheat (at least 51 gms each)
Method
1
CCP: Preheat ovens: convection 350F, conventional 375F.
2
Heat olive oil over medium heat.
3
Saute onions and Bell peppers for approximately 5 minutes until soft.
4
Add spices and toss to combine. Saute for 3 minutes.
5
Add spinach to pan, tossing to combine. When spinach has wilted, remove pan from heat. Set aside while you prepare the tortillas.
6
Spread out the tortillas on clean, parchment lined baking sheets.
7
Spread 1 oz of refried beans across one-half of each tortilla.
8
Place 1 oz of shredded mozzarella on top of beans. Distribute veggie mix evenly between all tortillas layering on top of the cheese.
9
Fold tortillas in half over contents to form quesadillas. Press lightly to create a seal so tortillas remain folded.
10
Spray tops with pan spray to coat.
11
Place in oven for 15 minutes, until the cheese is melted and the tortillas are just coloring and crisp.
12
Serve with fresh salsa on the side of the quesadilla.
13
CCP: Hold for hot service at 135 degrees F or higher.
Nutrition Facts

100 servings per container

Serving Size

1 piece (6.5 oz)

Amount per serving

Calories

288

% Daily Value*

Total Fat

11.7 g

15%

Saturated Fat

6 g

30%

Trans Fat

0 g

Cholesterol

15 mg

5%

Sodium

421 mg

18.3%

Total Carbohydrate

31.2 g

11.35%

Dietary Fiber

8.2 g

29.29%

Total Sugars

3.2 g

Protein

15.6 g

31.2%

* The % Daily Value (DV) tells you how much a nutrient in a serving of food contributes to a daily diet. 2,000 calories a day is used for general nutrition advice.
Save this recipe: