THREE PEPPER SALAD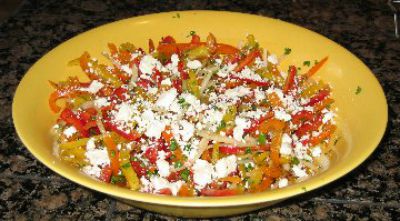 A bright and tasty salad using three colors of Bell peppers at the peak of the harvest.This is a summer family recipe for Bell Peppers and fresh Herbs.
Prep Time

15 min

Total Time

15 min

Yield

6

Energy

50 cal
Ingredients
1 red sweet pepper, cored and seeded
1 yellow sweet pepper, cored and seeded
1 orange sweet pepper, cored and seeded
1 small sweet onion (Walla Walla, Vidalia, or Maui), peeled
¼ cup chopped fresh parsley or fresh basil leaves
Coarse salt and freshly-ground black pepper
1 tablespoon rice vinegar
¼ cup (2 ounces) crumbled feta cheese
Method
1
Slice sweet peppers into match stick-size pieces and place in a large bowl.
2
Slice onion into match stick-size pieces and add to the bowl.
3
Add parsley or basil (your choice). Sprinkle with coarse salt and pepper. Add rice vinegar and sesame oil, stirring to mix well.
4
Cover and refrigerate approximately 1 hour before serving. To serve, toss salad again and sprinkle with crumbled feta cheese, or a tangy cheese of your choice.
The sweet taste of Bell peppers pares perfectly with the tanginess of Feta cheese. Three Pepper Salad makes a beautiful presentation with the various colors of the sweet peppers. It is so simple to make, very attractive, and so delicious! This salad also refrigerates well, and tastes great the next day.
Nutrition Facts

6 servings per container

Amount per serving

Calories

50

% Daily Value*

Total Fat

3.4 g

4.36%

Total Carbohydrate

3.8 g

1.38%

* The % Daily Value (DV) tells you how much a nutrient in a serving of food contributes to a daily diet. 2,000 calories a day is used for general nutrition advice.
Save this recipe: