Pasta Primavera
Author:
Adapted from Make it Local, Recipes for Alaska's Children
Recipe type:
Vegetable and grain entree, HACCP Process 2
Cuisine:
Creamy pasta with fresh, local veggies and a hint of Parmesan cheese!
Prep time:
Cook time:
Total time:
This is a school food service recipe for Peas, Carrots, Broccoli, and Cauliflower.
USDA components: ¼ cup red/orange vegetable, ¼ cup dark green vegetable, ¼ cup other vegetable, ⅛ cup starchy vegetable, 1 oz WRG grain
Cooking and Prep Level: Intermediate
Ingredients
4½ lbs Penne, dry whole wheat pasta
7¼ lbs Carrots, fresh, diced
2¾ lbs Broccoli florets, fresh
2½ lbs Cauliflower florets, fresh
3¼ lbs Onion, fresh diced
3¾ lbs Peas, fresh shelled (frozen, slacked peas may be substituted)
5 cloves Garlic, fresh peeled and minced
¾ cup Canola Oil
1 tbsp + 1½ tsp Salt
2 tsp Pepper
1 cup Margarine (transfat free)
1 cup All-purpose Flour
96 oz (1½ gallons) Milk, skim cold
3 cups Parmesan Cheese, grated
Instructions
Bring a large pot of water to boil. Cook pasta according to package directions for al dente, do not overcook!
Drain pasta and rinse well. Set aside to finish draining.


Veggie Prep: Oven Method

Combine broccoli, cauliflower, carrots, and onions with oil. Toss to coat evenly.
Place broccoli, cauliflower, carrots, and onions on sheet pans.
Bake Conventional Oven 400F for 20 mins, Convection oven 375F for 16 mins.
CCP: Internal temp should reach 160F for 15 seconds.
Remove veggies from oven, sprinkle peas over top. Set aside.
While veggies are cooking melt margarine in a stockpot over medium heat.
Add garlic and stir for 3 minutes. Add flour, stirring until mixture becomes a blonde colored roux (thick paste).
Slowly add milk to the roux, whisking to combine until milk is incorporated and sauce is thickened about 8 minutes. Add salt, pepper, and parmesan stirring to combine. Taste for seasonings.
Gently combine the sauce, veggies, and the pasta.
Place in steam table pans for service.
CCP: Hold at 135F through service.
Serving size: 1¼ cups.
Notes
This is a vegetarian recipe. If you wish to add a protein please consider the following additions. (Nutritional information should be adjusted for each addition.)
4¾ lbs USDA diced, cooked chicken (1 oz serving protein)
12 lbs Garbanzo or Chick Peas, canned (1/4 cup beans per serving)
9¾ lbs Tofu, diced (2.2 oz or ¼ cup provides 1 oz meat alternate)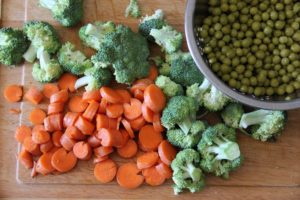 Nutrition Information
Serving size:
1¼ cup
Calories:
250
Fat:
8 g
Saturated fat:
1.5 g
Trans fat:
0
Carbohydrates:
36 g
Sodium:
600 mg
Fiber:
9 g
Protein:
12 g