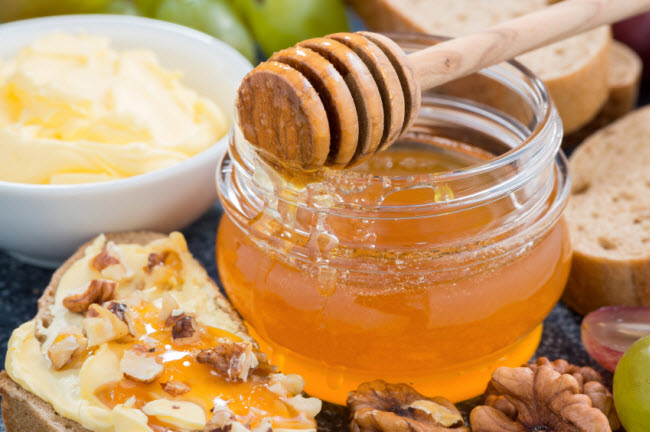 A sweet and tangy dressing for salads, fish or chicken.This is a family winter recipe for honey.
Prep Time

10 min

Total Time

10 min

Yield

3/4 cup
Ingredients
1 tsp. raw honey
1 tsp. soy sauce
⅓ cup olive oil
½ cup apple cider vinegar
Method
1
Place apple cider, soy sauce, and honey in a deep bowl.
3
Slowly whisk in oil in a thin stream to emulsify.
4
Taste and adjust sweetness or tangy notes to your preferences.
5
Serve over salads, baked chicken or fish.
6
Store in the refrigerator, let come to room temp and whisk to use.
You can find local honey at your farmers market or at stores that sell local products such as coops and local specialty shops.
There are at least 8 popular types of honey produced in the U.S.: Clover, Manuka, Sourwood, Buckwheat, Rosemary, Dandelion, Acacia, and Eucalyptus. Each type of honey is determined by the flowers pollinated by the keeper's bees.
The forms of honey are determined by the honey making process. They include Comb honey, Liquid honey, Granulated honey (powdered form), Creamed honey, Chunk honey, Raw honey, and Pasteurized or Processed honey.
Save this recipe: