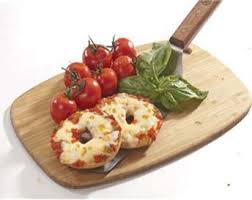 A fast and easy way to serve bell peppers and fresh herbs to young eaters!
This is a CACFP recipe for Bell Peppers and fresh Herbs.
Cooking and prep level: Basic.
Prep Time

20 min

Cook Time

10 min

Total Time

30 min

Serving Size

1 piece

Energy

87 cal

HAACP Process

2
Cuisine

Course

USDA Meal Components

1/2 serving grains
.5 oz serving meat alternate
1/4 c red/orange veg
Ingredients
10 mini 3-inch whole wheat bagels, sliced in half
3 large red or orange Bell peppers, cut crosswise (in 20 circles total)
10 fresh Basil leaves, cut in a Chiffonade (thinly sliced, see video link below)
1 1/2 cups Pizza Sauce
1 1/4 cups low-fat Mozzarella Cheese, grated
Method
1
Pre-heat the oven to 400 degrees.
2
Line a sheet pan with parchment paper. Place bagel halves on parchment.
3
Spread 2 Tbsp of sauce on each bagel.
Layer the Ingredients in the following Order:
4
two basil ribbons, one red pepper ring, 1 Tbsp of grated cheese.
5
Bake for approximately 5-8 minutes until cheese is melted and just beginning to brown.
You can connect a garden lesson to your meal by growing fresh basil with your kids for this recipe. Even during the winter months, fresh herbs grow well indoors in a sunny window. Allowing young eaters to plant and nourish seeds gives them a sense of accomplishment and helps to develop an interest in new foods.
To learn to Chiffonade fresh herbs watch: https://www.youtube.com/watch?v=gOOdQiTBPGs
Nutrition Facts

20 servings per container

Serving Size

1 piece

Amount per serving

Calories

87

% Daily Value*

Total Fat

2.5 g

3.21%

Saturated Fat

1 g

5%

Trans Fat

0 g

Sodium

240 mg

10.43%

Total Carbohydrate

14 g

5.09%

Dietary Fiber

3 g

10.71%

Protein

4 g

8%

* The % Daily Value (DV) tells you how much a nutrient in a serving of food contributes to a daily diet. 2,000 calories a day is used for general nutrition advice.
Save this recipe: