BAKED TOMATOES WITH QUINOA, CORN & GREEN CHILIES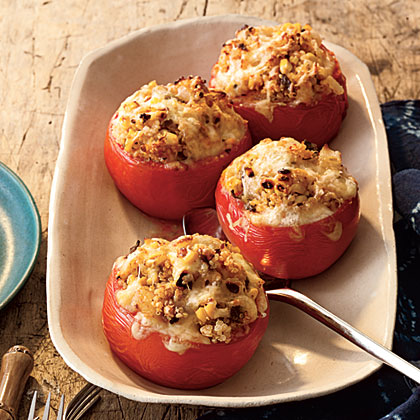 What a great way to use summer tomatoes- a stuffed tomato with a flavor pop!This is a summer family recipe for Sweet Corn and Tomatoes.
Prep Time

30 min

Cook Time

50 min

Total Time

1 hr 20 min

Yield

6

Serving Size

1 tomato

Energy

320 cal
Ingredients
2 cups fresh corn kernels (about 4 ears)
1 tablespoon chopped fresh oregano
1 tablespoon fresh lime juice
¼ teaspoon freshly ground black pepper
6 large ripe tomatoes (about 4 pounds)
4 ounces Colby-Jack cheese, shredded (about 1 cup packed)
Method
2
Cut the chilies in half lengthwise; discard seeds and membranes. Place chili halves, skin side up, on a foil-lined baking sheet; flatten with hand.
3
Broil 8 minutes or until blackened.
4
Place in a paper bag; close tightly. Let stand 10 minutes. Peel chilies. Coarsely chop chilies; place in a bowl.
5
Add corn kernels and onion to oven pan; broil 10 minutes, stirring twice. Remove from oven.
6
Add corn mixture to chopped chilies; stir in oregano, oil, lime juice, ¼ teaspoon salt, cumin, and black pepper.
7
Cut tops off tomatoes; set aside. Carefully scoop out tomato pulp, leaving shells intact.
8
Drain pulp through a sieve or fine strainer over a bowl, pressing with the back of a spoon to extract liquid. Reserve 1¼ cups liquid, and discard remaining liquid.
9
Sprinkle tomatoes with ½ teaspoon salt. Invert tomatoes on a wire rack; let stand 30 minutes. Dry insides of tomatoes with a paper towel.
10
Place quinoa in a fine sieve, and place sieve in a large bowl. Cover quinoa with water. Using your hands, rub the grains together for 30 seconds; rinse and drain. Repeat the procedure twice. Drain well.
11
Combine reserved tomato liquid, quinoa, ¼ cup water, and the remaining salt in a medium saucepan; bring to a boil. Cover, reduce heat, and simmer for 15 minutes or until liquid is absorbed. Remove from heat; fluff with a fork.
12
Add quinoa mixture to corn mixture; toss well.
14
Spoon about ¾ cup corn mixture into each tomato. Divide cheese evenly and sprinkle on tomatoes.
15
Place tomatoes and tops, if desired, on a jelly-roll pan. Bake at 350° F for 15 minutes. Remove from oven.
16
Preheat broiler. Broil the tomatoes 1½ minutes or until cheese melts.
17
Place tomato tops on tomatoes, if desired. Serve.
Nutrition Facts

6 servings per container

Serving Size

1 tomato

Amount per serving

Calories

320

% Daily Value*

Total Fat

11.2 g

14.36%

Saturated Fat

4.1 g

20.5%

Cholesterol

17 mg

5.67%

Sodium

550 mg

23.91%

Total Carbohydrate

46.3 g

16.84%

Dietary Fiber

8.87 g

31.68%

Protein

13.4 g

26.8%

* The % Daily Value (DV) tells you how much a nutrient in a serving of food contributes to a daily diet. 2,000 calories a day is used for general nutrition advice.
Save this recipe: