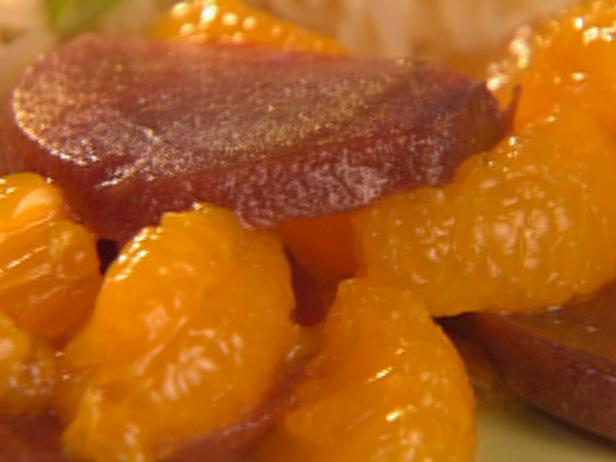 A beautiful fresh salad with the colors of a winter sunset- a great way to get your students to try beets!This is a winter school food service recipe for beets.Cooking and prep level: Basic.Adapted from FoodNetwork, Robin Miller
Prep Time

1 hr 15 min

Cook Time

1 hr 15 min

Total Time

2 hr 30 min

Yield

100

Serving Size

1/2 cup

Energy

83 cal

HAACP Process

2
USDA Meal Components

¼ c fruit
¼ c other vegetable

Diet
Ingredients
For the Dressing
⅔ cup + 2 Tbsp Oil, olive or canola
⅓ cup Vinegar, white wine
⅔ cup + 2 Tbsp Orange Juice, fresh or from concentrate
½ cup Honey
Juice of 1 Lime
¼ cup Lime zest, grated
For the Salad
14 lbs Beets, red or golden, fresh OR 2½ #10 cans Beets, diced, drained
15 lbs Mandarin Oranges, canned, drained
12 oz Walnuts, diced (can be optional, see notes)
Method
1
If using fresh, local beets: Roast whole, scrubbed and trimmed beets in a covered deep pan, sealed tightly with foil in a conventional oven at 375 F for approximately 60-80 minutes until beets are just tender. Cool in the pan, slicing holes in the foil to vent.
2
Once beets are cooled, in gloved hands grasp beet by top (greens end) and squeeze gently. If skin (jacket) does not slide off, gently rub the skin off using gloved hands.
3
Chop beets into ½ inch pieces. If using golden and red beets, keep separated until combining ingredients to make the salad.
4
For the Dressing: In a deep bowl, combine orange juice, honey, vinegar, lime zest, and juice. Whisk in oil to incorporate. Taste for sweetness and tartness. Adjust flavor if needed.
5
Two to four hours prior to service, combine beets, oranges, and walnuts. Toss lightly to combine.
6
Add dressing, tossing to coat evenly. Allow time to marinate.
7
CCP: Hold salad at a minimum of 41 F until service.
8
Toss salad lightly just prior to service.
9
CCP: Hold at a minimum of 41 F through service.
10
Serve in ½ cup portions (#8 scoop)
If omitting walnuts in the recipe, follow these nutritional amounts:
Calories 71, sugars 11.6 g, Sodium 48.9 mg, Fat 1.6 g, Sat Fat 0, Trans Fat 0, Carbs 13.8 g, Fiber 2 g, Protein 1.5 g, Cholesterol 0. 

Make it colorful!
To increase the vibrancy of the colors in the salad use golden and red beets. If your students do not like red beets, increase the number of golden beets to ¾ of the total amount needed.
Nutrition Facts

100 servings per container

Serving Size

1/2 cup

Amount per serving

Calories

83

% Daily Value*

Total Fat

2.8 g

3.59%

Saturated Fat

0 g

0%

Trans Fat

0 g

Cholesterol

0 mg

0%

Sodium

48.9 mg

2.13%

Total Carbohydrate

14 g

5.09%

Dietary Fiber

2 g

7.14%

Total Sugars

11.7 g

Protein

2 g

4%

* The % Daily Value (DV) tells you how much a nutrient in a serving of food contributes to a daily diet. 2,000 calories a day is used for general nutrition advice.
Save this recipe: