Wheat Berry and Apple Salad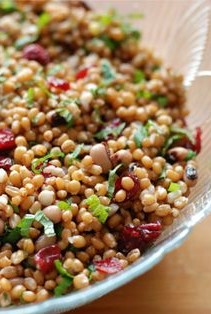 This is a great way to introduce local grains into the school menu, using a sweet-tart autumn flavor combo!
Cooking and Prep Level: Basic.
This is a school foodservice recipe for apples, cranberries, and local grains.
Prep Time

1 hr

Cook Time

1 hr

Total Time

2 hr

Yield

50

Serving Size

1/3 c

Energy

181 cal

HAACP Process

2
Cuisine

Course

USDA Meal Components

Whole Grain: 1/4 cup
Dried Fruit: 1/8 cup (credits as 1/4 cup fruit in NSLP/SBP & CACFP)

Diet
Ingredients
2 1/4 lbs of wheat berries (barley can be substituted)
3 1/2 lbs crisp, tart apples, 125-138 count whole, diced
2 lbs of dried cranberries, or raisins
1 cup of flat leaf parsley, minced
1/2 cup of apple cider vinegar
1 cup of apple juice
1/2 tsp of kosher salt
1/2 tsp of fresh cracked black pepper
1/2 tsp of ground nutmeg
3/4 tsp of ground cinnamon
1 cup of extra virgin olive oil
3 Tbsp of lemon juice
Method
1
Soak wheat berries in water overnight, with enough water to cover by a couple of inches.
2
Drain soaking water and rinse wheat berries.
3
In a saucepan, bring 7 cups of water to a boil. Add wheat berries and simmer, uncovered, for about 50 minutes or until cooked (wheat berries retain a firm, chewy texture).
4
Drain water and set aside to cool.
5
Transfer wheat berries to a large mixing bowl and add remaining ingredients.
6
Mix thoroughly and refrigerate for at least 2 hours.
Notes:
Service Tip: Wheat berries can turn hard once cooked, and then refrigerated. It is best to use them the same day you cook them.
Wheat berries are whole, unprocessed wheat kernels in their most natural form. Wheat berries resemble other hearty whole grains, such as barley. They are extremely nutritious and offer a crunchy texture.
More than 17,000 years ago, humans gathered the seeds of wheat as an important food source. After rubbing off the husk, the kernels were consumed raw, parched or simmered.
Grown in 42 states in the US, wheat makes up 75% of all grain products produced in the US. One bushel of wheat weighs about 60 pounds and makes about 42 pounds of white flour or 60 pounds of whole wheat flour. 150 pounds will supply an adult for one year. The thousands of varieties of wheat are organized into six classes: Hard Red Winter, Hard Red Spring, Soft Red Winter, Durum, Hard White and Soft White.
Nutrition Facts

50 servings per container

Serving Size

1/3 c

Amount per serving

Calories

181

% Daily Value*

Standard DV

Total Fat

4.7 g

78 g

6.03%

Saturated Fat

0.6 g

20 g

3%

Trans Fat

0 g

Cholesterol

0 mg

300 mg

0%

Sodium

73 mg

2300 mg

3.17%

Total Carbohydrate

34 g

275 g

12.36%

Dietary Fiber

4.2 g

28 g

15%

Total Sugars

14.4 g

Protein

3.4 g

50 g

6.8%

* The % Daily Value (DV) tells you how much a nutrient in a serving of food contributes to a daily diet. 2,000 calories a day is used for general nutrition advice.
Save this recipe: