SWEET AND SLOPPY JOE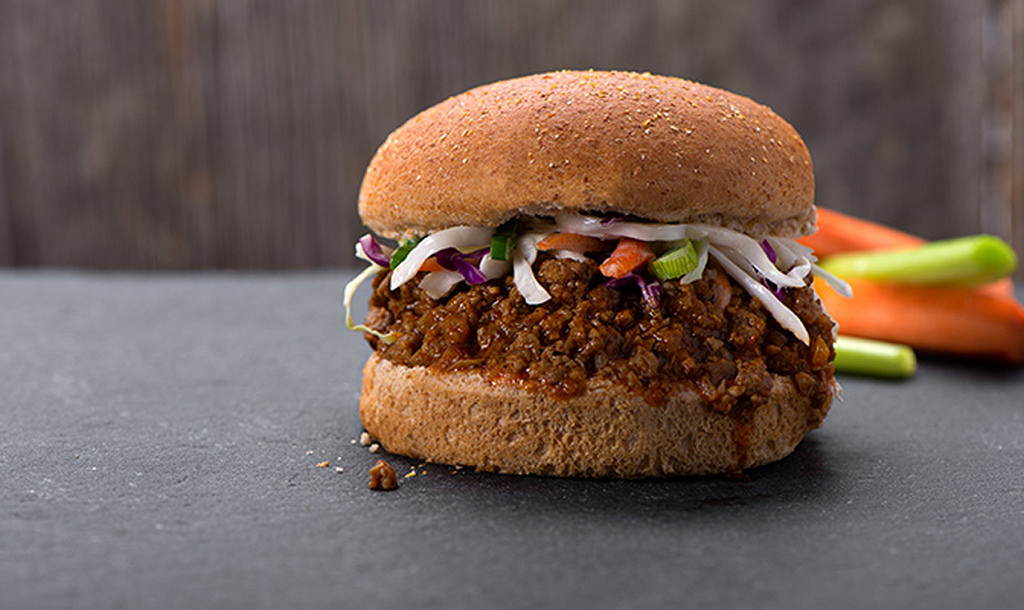 A standard Joe recipe with a sweet twist- Bell peppers and raisins give this old standard a tasty upgrade.This is a summer school food service recipe for Bell Peppers.Cooking and prep level: Intermediate.
Prep Time

25 min

Cook Time

40 min

Total Time

1 hr 5 min

Yield

100

Serving Size

2/3 cup

Energy

408 cal
Cuisine

Course

USDA Meal Components

2 oz Meat/meat alternate
½ cup red/orange vegetable
⅛ c fruit
Ingredients
17 lbs 80/20 Beef, fresh, ground
5 lbs 2 oz Bell Pepper, red and/or orange, diced
4 lbs Onions, fine chopped
2 #10 cans Tomato Sauce, USDA
1 cup Ancho Chili Powder (Ground Poblano Peppers)
½ cup Oregano, leaves dried
100 Hamburger Buns, whole grain credible
Method
1
In a tilt skillet, large pans or in a 375 F oven brown ground beef with onions and Bell peppers, breaking down beef into ¾ inch crumbles, stirring occasionally.
2
CCP: Cook until internal temp reaches 160* F for 15 seconds.
3
Add tomato sauce, water, raisins and seasonings. Bring to a boil. Reduce heat, simmer uncovered, stirring occasionally, until sauce thickens.
4
CCP: Cook until an internal temp reaches 165 F for 15 seconds.
5
Place Joes in sprayed hotel pans.
6
Serve a #6 scoop on each bun.
7
CCP: Hold at 135 F through service.
Ancho Chile powder is made of Poblano Peppers that have been dried. These peppers have a rich, smoky flavor which dials up the taste profile of the Joes and compliments the sweetness of the raisins.

In grades 5-12 consider offering toppings such as chopped peaches, pineapple or mangos, or a fresh cabbage slaw (we have a recipe for that!) for an added level of flavor and a bit of crunchiness!

This recipe has been formulated without the added whole grain-rich bun. Be sure to add nutrition information from your bun, as purchased.
Nutrition Facts

100 servings per container

Serving Size

2/3 cup

Amount per serving

Calories

408

% Daily Value*

Total Fat

14 g

17.95%

Saturated Fat

5 g

25%

Trans Fat

0 g

Cholesterol

51 mg

17%

Sodium

632 mg

27.48%

Total Carbohydrate

51 g

18.55%

Dietary Fiber

5 g

17.86%

Protein

23 g

46%

* The % Daily Value (DV) tells you how much a nutrient in a serving of food contributes to a daily diet. 2,000 calories a day is used for general nutrition advice.
Save this recipe: