ROASTED SWEET CORN, CAULIFLOWER AND POTATO SOUP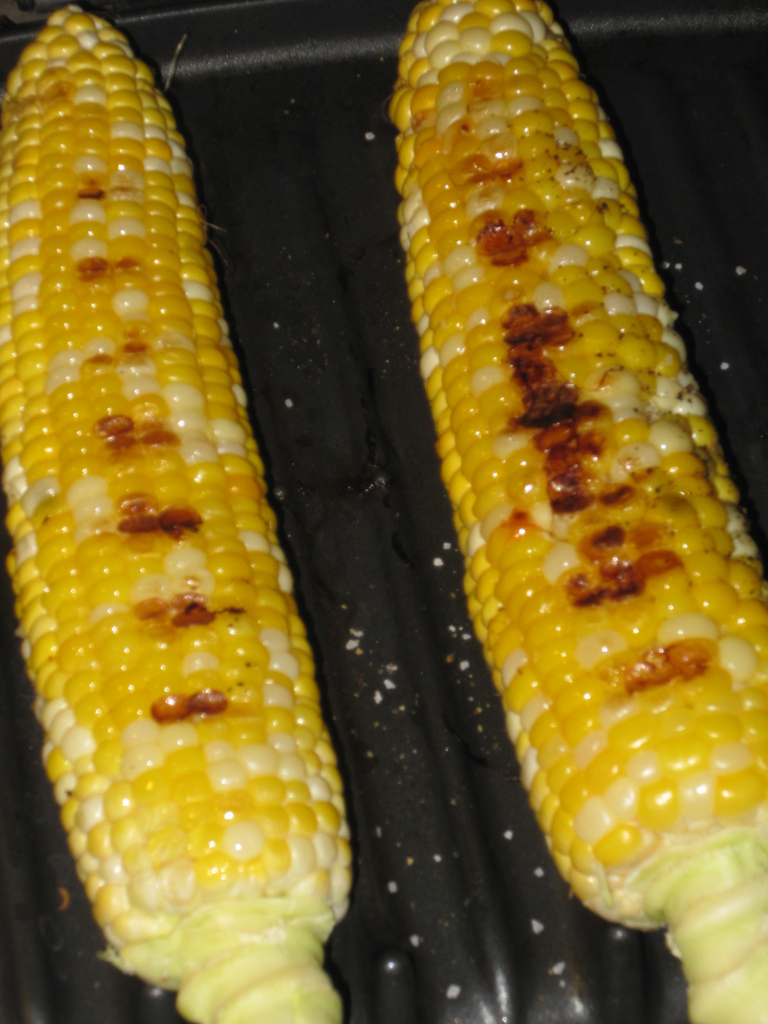 The roasted veggies in this soup add layers of sweet and smoky flavor!This is a summer and autumn school food service recipe for sweet corn, cauliflower, and potatoes.Cooking and prep level: Intermediate.Adapted from NEW School Cuisine, Vermont FEED
Prep Time

1 hr 30 min

Cook Time

30 min

Total Time

2 hr

Yield

100

Serving Size

1 cup

Energy

234 cal
Course

USDA Meal Components

½ cup starchy vegetable
¼ cup other vegetable

Diet
Ingredients
21 lbs 8 oz medium size ears Sweet Corn, shucked. (if using the oven roasted method) OR 10 lbs Corn kernels, frozen, slacked, drained
5 lbs 4 oz Red Potatoes, skins on, 1-inch chop
4 lbs Cauliflower, fresh, rough chopped
¼ cup Thyme Leaves, dried OR ⅛ cup Thyme, ground
2 qts 2 cups Vegetable Broth, low sodium
5 lbs 4 oz Onion, fresh, chopped
⅔ cup Garlic, fresh chopped
Method
To Oven Roast the Veggies
1
CCP: Preheat conventional oven to 375 F.
2
Using four sheet pans, line two sheet pans with parchment paper. Reserve two sheet pans to be parchment-free.
3
Whisk to combine oil with salt, pepper, thyme and smoked paprika.
4
Spread half (1/4 cup) of seasoned oil over the two unlined sheet pans.
5
Place ears of corn on the unlined, oiled pans rolling each ear to spread the seasoned oil over the corn.
6
Combine the potatoes and cauliflower in a large tote. Gently toss the veggies with the remaining ¼ cup of seasoned oil.
7
Spread the potato mixture over the two lined pans. DO NOT OVER-CROWD THE PANS.
8
CCP: Bake for 15 minutes. Remove pans: roll corn ears to expose undersides, toss potato mixture.
9
CCP: Bake an additional 10-15 minutes until veggies begin to brown and an internal temperature reaches 135 F. Remove pans from the oven.
For the Soup
10
In a floor kettle or large soup pots, heat the water, milk, and vegetable broth.
12
Reduce heat to a simmer. Add onions and garlic. (If using frozen, slacked corn kernels, add to the pot.)
14
Cut cooled roasted corn kernels off the cobs. Add to the soup pot. Add potatoes and cauliflower to the soup pot. Heat through.
15
CCP: Hold soup at 140 F through service.
16
Serve with an eight-ounce ladle or spoodle.
Take the time to add a smoky layer of flavor! 
By taking the extra step to oven roast your veggies, including those whole ears of fresh sweet corn, you add a smoky and sweet punch! 
Buying sweet corn and other seasonal veggies in the height of the season will give all your fall recipes more flavor and appeal. Avoid using frozen, stand-by veggies when you can use fresh, local veggies at the height of the harvest season!
Nutrition Facts

100 servings per container

Serving Size

1 cup

Amount per serving

Calories

234

% Daily Value*

Total Fat

2.7 g

3.46%

Saturated Fat

0.8 g

4%

Trans Fat

0 g

Cholesterol

3.1 mg

1.03%

Sodium

330 mg

14.35%

Total Carbohydrate

48.4 g

17.6%

Dietary Fiber

4.2 g

15%

Total Sugars

5.7 g

Protein

9.4 g

18.8%

* The % Daily Value (DV) tells you how much a nutrient in a serving of food contributes to a daily diet. 2,000 calories a day is used for general nutrition advice.
Save this recipe: