Radish Salsa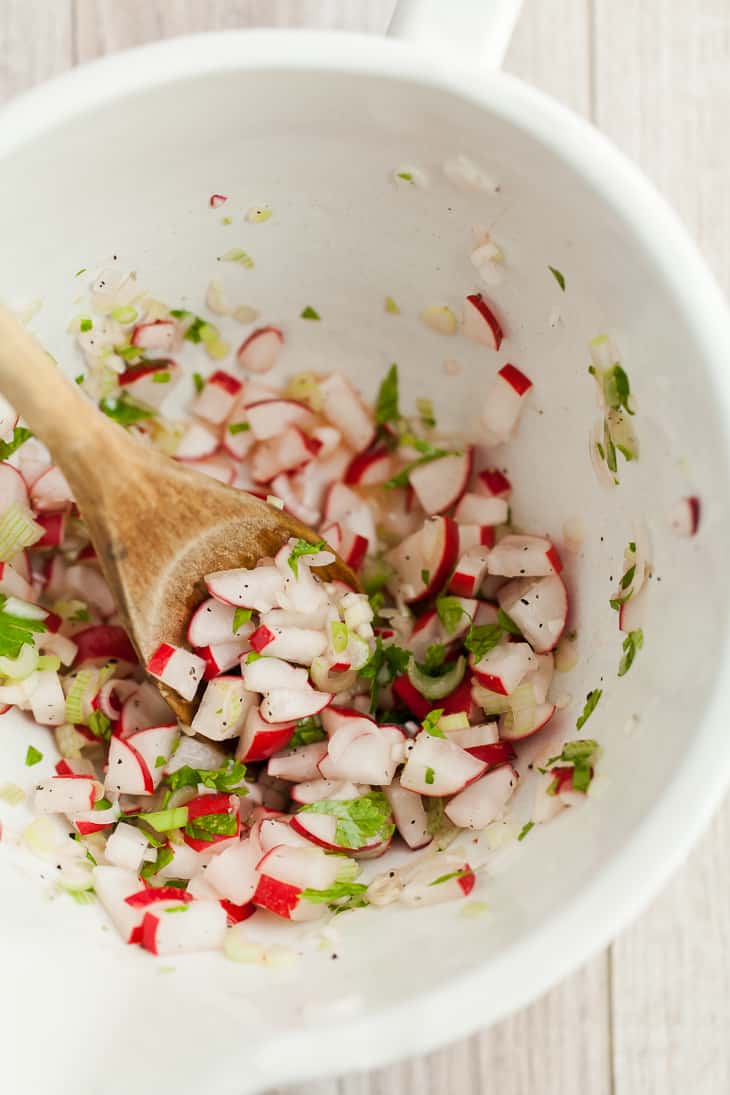 Slightly spicy and bright, this salsa will change your students mind about the lowly radish!This is a food service spring and fall recipe for radish, fresh herbs and hot peppers.Cooking and prep level: Basic.
Prep Time

25 min

Cook Time

25 min

Total Time

50 min

Yield

50

Serving Size

1/4 cup

Energy

6 cal

HAACP Process

no cook

HAACP Process

[Enter here]
Ingredients
3 1/4 lbs red Radish, fresh, thin sliced
10 Scallions, green tops minced
4 T Jalapeno Pepper, seeded and minced
4 T Parsley, fresh, minced
4 T lemon juice
1/2 teaspoon Salt
1/4 teaspoon black Pepper
Method
1
Place all ingredients in a large bowl and toss until well combined. Allow to sit to marry all of the flavors.
Serve a 1/4 cup, or #16 scoop.
2
CCP: Hold at a minimum of 40 F degrees through service.
Refrigerate leftovers.
Radish Fun Facts:
1. Radishes are edible root vegetable.
2. The radish is a member of the Brassicaceae family; its cousins are broccoli, cabbage, cauliflower, and turnip.
3. The origins of radishes are most likely China, and they have been cultivated around the world for thousands of years.
4. There are hundreds of varieties of radishes grown worldwide, reaching 2% of total global vegetable production.
5. Radishes are so easy and fast to grow, even kids can do it. This is why you will see radishes in many school and community gardens.
6. Nutrition: Half a cup of sliced radishes (2 ounces) is only 10 calories. They are a good source of vitamin C and contain small amounts of other nutrients such as magnesium, vitamin B6, folic acid, potassium and calcium as well.
7. The most common use for raw radishes is in a salad.
8. The strong, slightly pungent flavor of radishes is caused by allyl isothiocyanates. These are oils present in mustard, horseradish, and wasabi as well.
9. Horseradish is a type of elongated white radish that has a high amount of said allyl isothiocyanates.
10. Daikon is another type of elongated radish, most famously used in Japanese cuisine, where it is used pickled, dried, grated, and in stir fries.
11. In Mexico, the annual Noche de (Night of the Radishes) festival takes place 24 hours prior to Christmas Eve. Mexican sculptors create Nativity scenes using very large radishes.
Exerpt from: Foodeducate.com
Nutrition Facts

50 servings per container

Serving Size

1/4 cup

Amount per serving

Calories

6

% Daily Value*

Total Fat

0 g

0%

Saturated Fat

0 g

0%

Trans Fat

0 g

Cholesterol

0 mg

0%

Sodium

35 mg

1.52%

Total Carbohydrate

28.5 g

10.36%

Dietary Fiber

2 g

7.14%

Total Sugars

1.4 g

Protein

3 g

6%

Calcium

10.1 mg

0.78%

Potassium

82.7 mg

1.76%

Vitamin A

71.8 mcg

7.98%

Vitamin C (Ascorbic Acid)

6.5 mg

7.22%

* The % Daily Value (DV) tells you how much a nutrient in a serving of food contributes to a daily diet. 2,000 calories a day is used for general nutrition advice.
Save this recipe: