Pumpkin Squares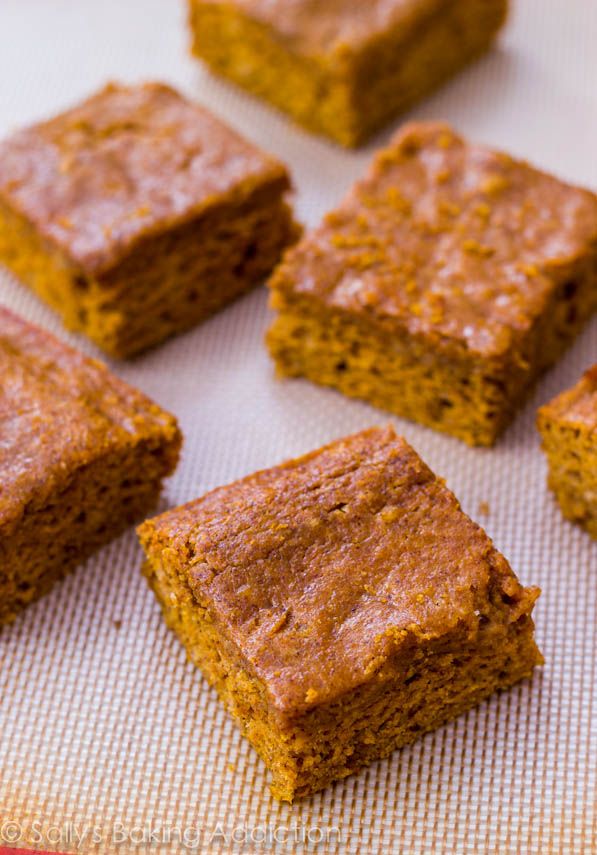 Serving local pumpkin in the height of the fall season can be educational and fun for young learners!
This is an autumn school and CACFP recipe for Pumpkin and local grains.
Cooking and Prep Level: Basic.
Prep Time

15 min

Cook Time

20 min

Total Time

35 min

Yield

75

Serving Size

76 g

Energy

220 cal
Course

USDA Meal Components

1¼ oz WGR grain CACFP: this recipe does not count toward meal components.
Ingredients
7½ cups Whole Wheat Flour
3 cups + 2 T All-purpose Flour
2 T + 1½ tsp Baking Powder
2 T + 1½ tsp Cinnamon
1¾ tsp + ⅛ tsp Baking Soda
1¾ tsp Salt
17½ LG Eggs, or equivalent in liquid eggs
6¼ cups pureed, baked fresh Pumpkin
6¼ cups Sugar
4⅓ cups Vegetable OI
Method
1
CCP: Preheat convection oven to 350°F or conventional oven to 375°F.
2
Coat sheet pans with cooking spray. (3 half sheet pans for 75 servings)
3
Sift together whole wheat flour, all-purpose flour, baking powder, cinnamon, baking soda and salt in a large bowl.
4
Whisk together eggs, sugar, oil and pumpkin in another large bowl.
5
Add dry ingredients to the wet ingredients and mix well. (Do not over mix).
6
Scrape mixture onto the prepared sheet pan(s) and spread evenly.
7
Bake until a toothpick inserted in the center comes out clean.
8
Conventional oven: 20-25 minutes Convection oven: 15-20 minutes
9
For 25 servings per half sheet pan, cut 2.5×5. Serving size: 76 g. For CACFP please consult USDA servings sizes per age group.
For CACFP audited sites this recipe cannot be counted toward nutritional goals and components. Therefore, this recipe is classified as a dessert which is allowable under CACFP guidelines for special occasions, etc.
Don't be afraid of using fresh pumpkin instead of canned or frozen puree.
After all, Illinois is one of the top growing states for pumpkin! Celebrate Illinois pumpkin and easily puree this midwest veggie using Alton Brown's sure-fire process below.
Heat the oven to 400 degrees F.
Slice a small piece of skin off the one side of the pumpkin so when laid on its side, the pumpkin will lay flat without rolling. Remove the stem and split the pumpkin in half from top to bottom, using a large cleaver and a mallet. Scoop out the seeds and fiber with a large metal spoon or ice cream scoop. Cut the fibers with kitchen shears if necessary. Reserve seeds for another use.
Sprinkle the flesh with kosher salt and lay the halves, flesh side down, on a parchment paper-lined half sheet pan. Roast until a paring knife can be easily inserted and removed from the pumpkin, 30 to 45 minutes. Test in several places to ensure doneness.
Remove the half sheet pan to a cooling rack and cool the pumpkin for 1 hour. Using a large spoon, remove the roasted flesh of the pumpkin from the skin to the bowl of a food processor. Process until the flesh is smooth, 3 to 4 minutes. Store in the fridge for up to 1 week or freeze for up to 3 months.
Nutrition Facts

75 servings per container

Serving Size

76 g

Amount per serving

Calories

220

% Daily Value*

Total Fat

10 g

12.82%

Saturated Fat

1 g

5%

Trans Fat

0 g

Sodium

180 mg

7.83%

Total Carbohydrate

30 g

10.91%

Dietary Fiber

2 g

7.14%

Total Sugars

17 g

Protein

4 g

8%

* The % Daily Value (DV) tells you how much a nutrient in a serving of food contributes to a daily diet. 2,000 calories a day is used for general nutrition advice.
Save this recipe: