MEDITERRANEAN FLATBREAD WITH PEPPERS & TOMATOES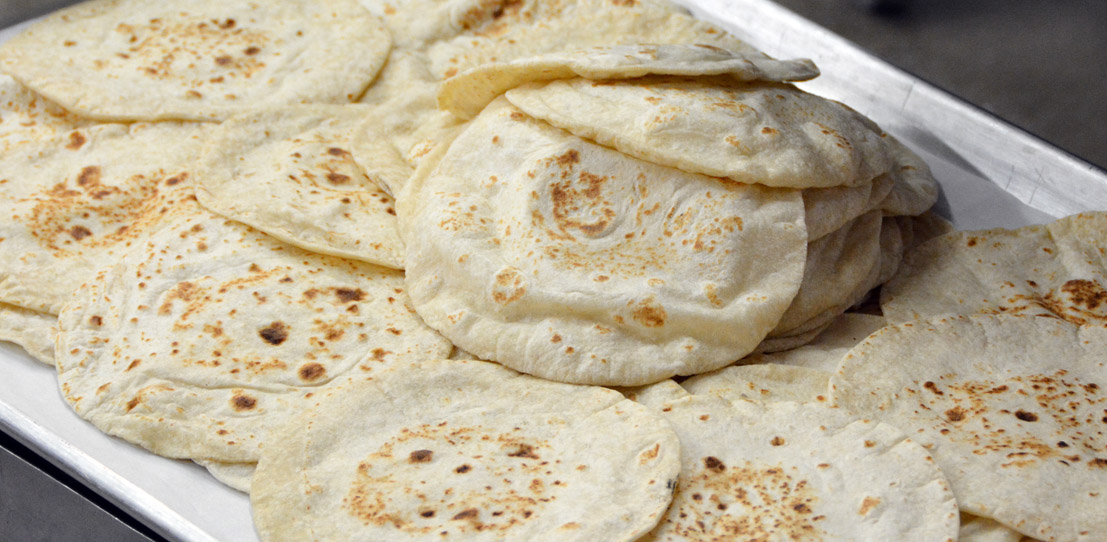 Mimicking a mini pizza, these tasty flatbread entrees will make introducing Meatless Monday a breeze!This is a summer and autumn school food service recipe for Bell Peppers and fresh herbs.Cooking and prep level: Intermediate
Prep Time

1 hr 15 min

Cook Time

10 min

Total Time

1 hr 25 min

Yield

100

Serving Size

1

Energy

343 cal
Cuisine

Course

USDA Meal Components

2 oz m/ma
2 oz credible grains
¼ cup red/orange vegetable

Diet
Ingredients
Pesto Sauce
2 tsp Garlic Powder OR 1½ tsp Granulated Garlic
4 cups Parsley or Basil, fresh
3 Tbsp Lemon Juice, fresh
Hummus
6 #10 cans + 1 pint (3 gals 1 pt) drained Garbanzo Beans
¼ cup Garlic Powder OR ⅛ cup Granulated Garlic
½ cup Parsley, fresh OR 1 cup dried
½ cup Basil, fresh OR 1 cup dried
3½ cups Lemon Juice, fresh
1⅓ cup water OR Chickpea Brine
1⅓ cup water OR Chickpea Brine
5 lbs Red Bell Peppers, in strips
5 lbs 12 oz Plum Tomatoes, sliced ⅛ inch slices
100 pcs Flatbread, 56 oz, whole grain-rich
Method
1
This recipe requires a food processor, such as a Robo Coupe.
To Make the Pesto
2
Blend Olive oil with Garlic Powder, fresh parsley, and lemon juice. Set aside.
To Make the Hummus
3
Puree the garbanzo beans with remaining hummus ingredients until smooth. Place in a medium bowl. Set aside.
4
CCP: Heat conventional ovens to 375* F, convection ovens to 350* F.
5
Place flatbreads on a lined, bun pan.
6
Brush each flatbread with pesto sauce, using only ½ of pesto sauce.
7
Place a #8 scoop of hummus on each flatbread, spreading evenly.
8
Layer ⅛ cup pepper strips and 2-3 slices of Roma tomato on each flatbread.
9
CCP: Bake for 5 minutes until flatbread is warmed through and slightly browned. DO NOT OVERBAKE.
10
Brush remaining pesto over each hot flatbread.
Nutritional data for this recipe was formulated without the flatbread. Because the USDA does not have data on a standard wholegrain rich flatbread, you should add your nutritional data for your flatbread, based on purchase.
Nutrition Facts

100 servings per container

Serving Size

1

Amount per serving

Calories

343

% Daily Value*

Total Fat

12.3 g

15.77%

Saturated Fat

1.6 g

8%

Trans Fat

0 g

Cholesterol

0 mg

0%

Sodium

493 mg

21.43%

Total Carbohydrate

51.6 g

18.76%

Dietary Fiber

8.9 g

31.79%

Total Sugars

16.8 g

Protein

6.5 g

13%

* The % Daily Value (DV) tells you how much a nutrient in a serving of food contributes to a daily diet. 2,000 calories a day is used for general nutrition advice.
Save this recipe: