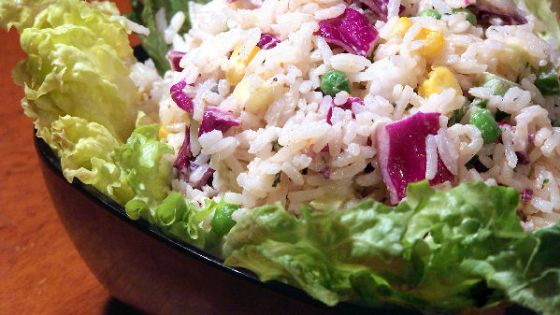 This is a great way to bring local grains into your food service menu while celebrating a mid-winter holiday.
This is a winter school food service recipe for local grains, onions and cabbage.
Cooking and prep level: basic.
Prep Time

20 min

Cook Time

1 hr 10 min

Total Time

1 hr 30 min

Yield

100

Serving Size

1 cup

HAACP Process

Same day
Course

USDA Meal Components

1 cup credible grains
1/4 c other vegetable
1/4 cup starchy vegetable

Diet
Ingredients
For the rice
11 lbs 9 oz Rice, dry brown long grain
water per amount on the package
4 1/2 lbs Red Cabbage, finely shredded
4 3/4 lbs Corn frozen, slacked
4 3/4 lbs Peas, frozen, slacked
1 lb Green Onion, chopped, green parts only
10 oz Parsley, fresh chopped
2 lbs Green Pepper, minced
3 lbs Mayonaise, light
4 tsp Creole Seasoning (see below)
3 tsp Curry Powder
To make Creole Seasoning
Ingredients
2 1/2 tablespoons paprika
2 tablespoons salt
2 tablespoons garlic powder
1 tablespoon black pepper
1 tablespoon onion powder
1 tablespoon cayenne pepper
1 tablespoon dried leaf oregano
1 tablespoon dried thyme
Method
To make the rice
1
Cook the rice per package instructions until tender, but not soggy. DO NOT OVERCOOK.
2
Combine mayonnaise, Creole seasoning, and curry powder. Set aside to meld flavors.
3
In a large bowl or tub, combine hot rice with all of the veggies.  
4
Add the mayo mixture tossing to distribute throughout the rice blend. Taste for seasoning, adjust if necessary.
5
CCP: Serve or hold at a minimum of 140 degrees. Do not hold longer than 2 hours. Toss before service. Serving size: 1 cup or 8 oz spoodle.
To make the Creole Seasoning
6
Combine all spices in a deep bowl. Place in an air-tight dated container. CCP: Hold in dry storage for up to 1 year.
The origins of Mardi Gras can be traced to medieval Europe, passing through Rome and Venice in the 17th and 18th centuries to the French House of the Bourbons. From here, the traditional revelry of "Boeuf Gras," or fatted calf, followed France to her colonies.
The celebration of Mardi Gras—also known as Shrove Tuesday or Pancake Day, depending on where you are—dates back to Medieval times in Europe. Feasting on the days leading up to Ash Wednesday, which begins the Lenten season of fasting, were common in Italy and France, and these traditions eventually made their way to the New World with the French.
In 1699, an explorer—Jean Baptiste Le Moyne Sieur de Bienville—landed about sixty miles south of the place that would become New Orleans (the city itself would be established nineteen years later by Bienville). Landing on the eve of Mardi Gras, he named the place "Pointe du Mardi Gras" as a means of honoring the holiday. This is seen as the first celebration of the holiday in the US.
Over time, the celebrations that began at Point du Mardi Gras began to grow. There were parades and street parties (not like those today, mind you), high society balls, and more. The parties continued on over the next few decades until the Spanish took over New Orleans in the 1760s and worked to shut down what they viewed as deprave celebrations. The restrictions continued until the US Government took over in the early 1800s. From then until 1837, the holiday was recognized but not encouraged.
After decades of suppression, the first official Mardi Gras parade took place in 1837. Parades and elegant balls continued in the following years, but by the early 1850s, had begun to wane in popularity.
Nutrition Facts

100 servings per container

Serving Size

1 cup

Amount per serving

Calories

0

% Daily Value*

Total Fat

6.3 g

8.08%

Saturated Fat

1 g

5%

Trans Fat

0 g

Cholesterol

4.7 mg

1.57%

Sodium

236 mg

10.26%

Total Carbohydrate

52.2 g

18.98%

Dietary Fiber

4.4 g

15.71%

Added Sugars

3.6 g

7.2%

Protein

6.7 g

13.4%

Calcium

48.6 mg

3.74%

Iron

1.7 mg

9.44%

Potassium

288 mg

6.13%

Vitamin A

1148 mcg

127.56%

Vitamin C (Ascorbic Acid)

24.1 mg

26.78%

Vitamin E (Tocopherol)

0.8 IU

2.42%

Vitamin K

105 mcg

87.5%

Vitamin B12 (Cobalamine)

0 mcg

0%

Magnesium

95 mg

22.62%

* The % Daily Value (DV) tells you how much a nutrient in a serving of food contributes to a daily diet. 2,000 calories a day is used for general nutrition advice.
Save this recipe: