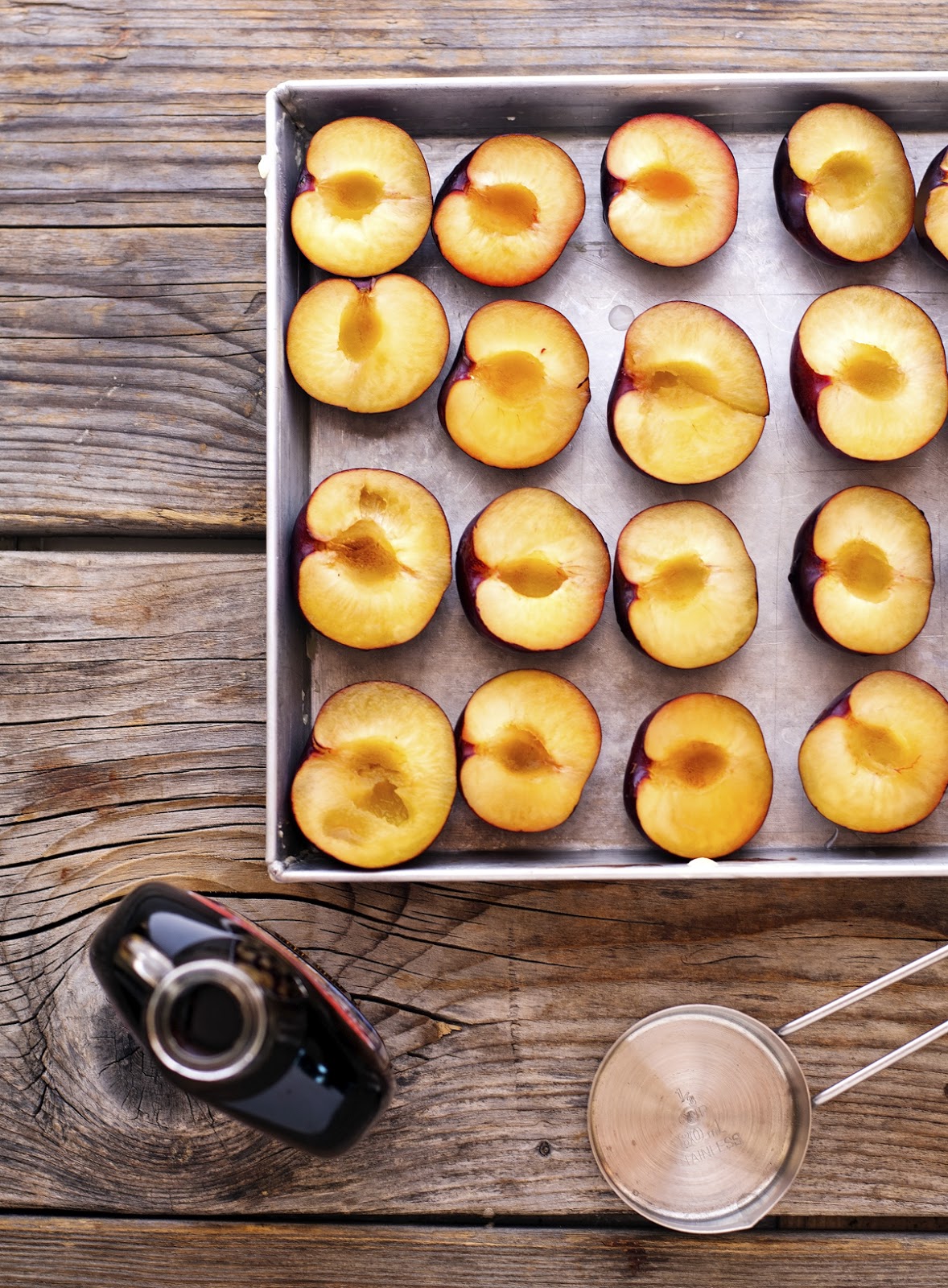 This salad recipe uses USDA diced chicken roasted, combined with seasonal kohlrabi and roasted plums.This is a summer food service recipe for Plums, Lettuce, Honey, and Kohlrabi.Adapted from WA Farm to School, Chef John Fisher, Renton Technical College, WA
Prep Time

1 hr 30 min

Cook Time

20 min

Total Time

1 hr 50 min

Yield

100

Serving Size

7.5 oz

Energy

236 cal

HAACP Process

2
USDA Meal Components

½ cup fruit
⅛ c Other vegetable
¼ cup dark green veg (credits as ⅛ cup in NSLP/SBP and CACFP)
1½ oz meat/meat alternate
Ingredients
100 Plums, red or black, whole 2-inch diameter (5 per lb) halved and pitted
1½ cups Honey, local
8 cups Orange Juice
3 lbs 8 oz Romaine Lettuce, local fresh roughly chopped
9 lbs 8 oz USDA Diced Chicken, cooked, thawed
5 lbs 6 oz fresh Kohlrabi sticks
6 lbs 8 oz Carrots, shredded
2 lbs Chow Mein Noodles
For the Dressing
20 oz Olive Oil or Salad OIl
12 oz Sesame Oil
4 oz Soy Sauce, low-sodium or Tamari (g/f)
6 oz Rice Vinegar or you can substitute Cider Vinegar
5 oz Orange Juice
½ cup Honey, local
2 tsp Ginger, ground dry
Method
For Plums and Chicken
1
Preheat oven to 400F degrees.
2
Add honey and orange juice to a 2-inch deep baking pan; stir until combined. Arrange plums, cut side down, in the pan. Bake until tender and juicy, 25 to 30 minutes, turning plums over during final 10 minutes of baking and spooning juices over fruit. (If needed, add 1 to 2 tablespoons water to dish to prevent scorching and keep an even amount of liquid in the pan.) Remove plums and cool.
3
Add chicken to pan(s), tossing to coat all pieces in remaining juice.
4
CCP: Bake until just starting to brown and an internal temp registers 140F for 15 seconds.
5
Remove from oven and cool.
For the Salad
6
While fruit and chicken are cooking, make the dressing by whisking vinegar, soy, orange juice, ginger, and honey in a deep, non-aluminum bowl to combine thoroughly. Combine oils together. Slowly whisk in oils in a thin stream to emulsify. Set aside.
7
In a large tote or container combine lettuce, both veggies, cooled chicken and chow mein noodles. Toss to combine.
8
CCP: Hold at a minimum of 40F.
9
Just prior to service, whisk dressing to re-combine. Slowly drizzle dressing into salad mixture. Toss gently to evenly coat salad ingredients.
10
Portion ¾ cup of salad with two plum halves on either side of salad.
Serve.
When you roast fresh plums you bring out a smoky and sweet flavor which provides a balance for the sharper flavors in the oriental vinaigrette. Adding the USDA chicken to the plum juices before roasting adds a sweet smokiness and unites the flavors in the salad.


Nutrition Facts

100 servings per container

Serving Size

7.5 oz

Amount per serving

Calories

236

% Daily Value*

Total Fat

10 g

12.82%

Saturated Fat

1.2 g

6%

Trans Fat

0 g

Cholesterol

31.9 mg

10.63%

Sodium

145 mg

6.3%

Total Carbohydrate

26 g

9.45%

Dietary Fiber

3 g

10.71%

Protein

11.4 g

22.8%

* The % Daily Value (DV) tells you how much a nutrient in a serving of food contributes to a daily diet. 2,000 calories a day is used for general nutrition advice.
Save this recipe: