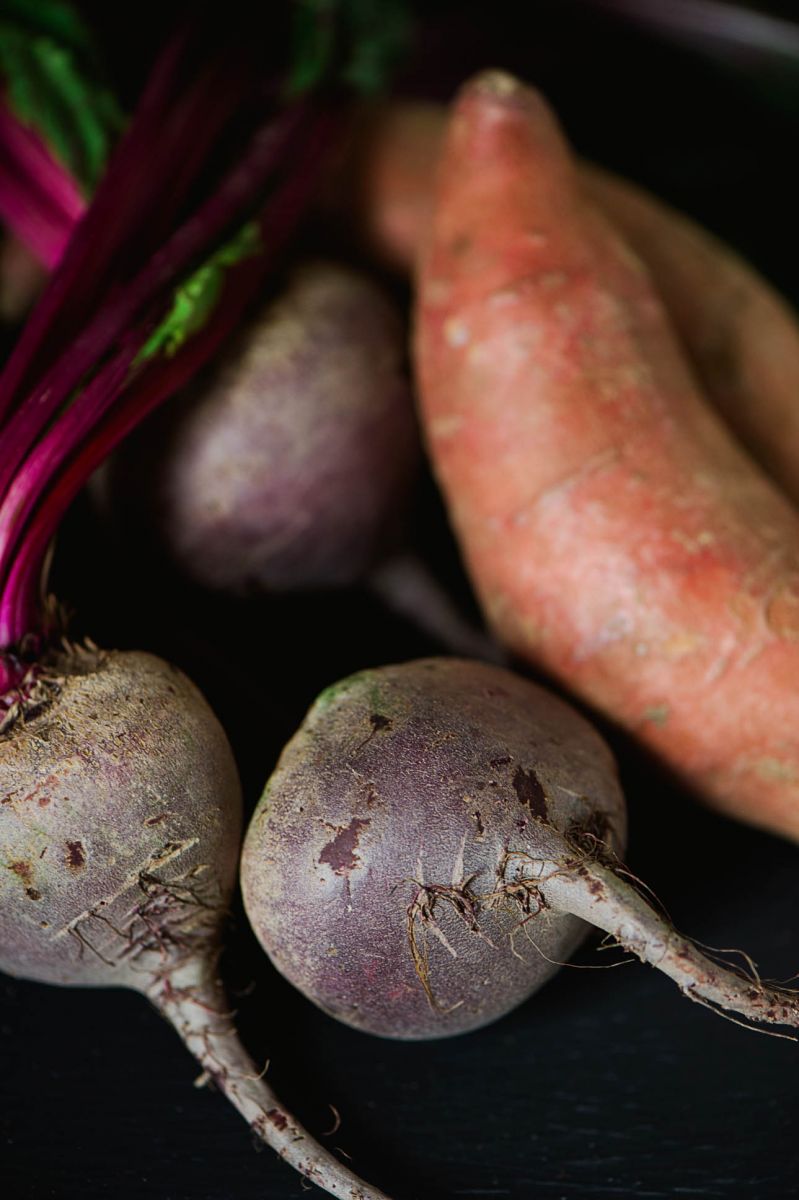 When root vegetables are roasted, their natural sweetness becomes the prominent flavor.This is an autumn and winter school food service recipe for beets and sweet potatoes.Cooking and prep level: Intermediate.Adapted from WSDA (Washington State Dept of Agriculture) Washington Grown Food Kit.
Prep Time

1 hr

Cook Time

40 min

Total Time

1 hr 40 min

Yield

100

Serving Size

1/2 cup

Energy

170 cal

HAACP Process

2
USDA Meal Components

¼ cup red/orange vegetable
¼ cup other vegetable

Diet
Ingredients
16 lbs 11 oz Beets, peeled fresh cut ½ " dice
16 lbs 11 oz Sweet Potato, peeled fresh in bite-sized chunks
8 lbs 6 oz Onion, yellow fresh chopped
5 Tbsps Garlic, fresh fine chopped
2 cups Olive Oil
2 Tbsps ⅔ tsp Salt
5 Tbsps Black Pepper, ground
5 Tbsps Sugar, white granulated
Method
1
CCP: Preheat oven; Convection 400 F, conventional 425 F.
2
Prepare vegetables. In a large tote, combine all vegetables.
3
In a separate bowl, combine oil, seasonings, and sugar.
4
Combine veggies with oil mixture, tossing to coat evenly.
5
Spread mixture on parchment lined sheet pans. Do not overcrowd- spread evenly.
6
CCP: Bake for 20 minutes. Remove and toss, return to oven.
CCP: Bake for twenty minutes longer, until just fork tender and beginning to brown.
7
CCP: Hold at a minimum of 140 F through service.
Beets: They are said to have grown in the Hanging Gardens of Babylon. The Elizabethans enjoyed them in tarts and stews. Thomas Jefferson planted them at Monticello. Medieval cooks stuffed them into pies. The colorful, sweet root vegetable known as the beet tends to spark an impassioned response from folks who either love it or loathe it. Many complain that beets have an earthy taste, which isn't far off the mark.

Beets contain a substance called geosmin, which is responsible for that fresh soil scent in your garden following a spring rain. Humans are quite sensitive to geosmin, even in very low doses, which explains why our beet response ranges from one extreme to the other.
(Excerpt from PBS.org, The history of Food)

Teaching kids to try and enjoy beets will take repeated exposures and fun exploration of this often misunderstood root. Sharing beet history, interesting uses like beets as an early hair dye and fun applications like creating temporary tattoos and stamps out of beets cut into interesting shapes will draw the interest of younger students.


Nutrition Facts

100 servings per container

Serving Size

1/2 cup

Amount per serving

Calories

170

% Daily Value*

Total Fat

5 g

6.41%

Saturated Fat

0.9 g

4.5%

Trans Fat

0 g

Cholesterol

0 mg

0%

Sodium

420 mg

18.26%

Total Carbohydrate

30 g

10.91%

Dietary Fiber

4 g

14.29%

Protein

3 g

6%

* The % Daily Value (DV) tells you how much a nutrient in a serving of food contributes to a daily diet. 2,000 calories a day is used for general nutrition advice.
Save this recipe: