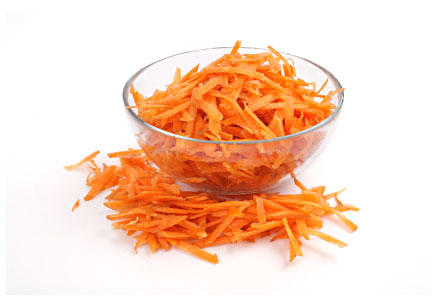 A traditional Rosh Hashanah dish in Israel. This holiday is celebrated near the end of September or beginning of October. The salad is a symbol of a sweet and fruitful year to come!This is an autumn school food service recipe for Carrots and Cranberries.Cooking and prep level: Basic.Adapted from: Chef Cyndie Story
Prep Time

1 hr

Cook Time

10 min

Total Time

1 hr 10 min

Yield

100

Serving Size

1/2 cup

Energy

91 cal

HAACP Process

2
USDA Meal Components

½ cup red/orange vegetable
⅛ cup fruit

Diet
Ingredients
2 lbs walnuts, chopped
10 lbs 2 oz shredded, raw carrots
2 lbs dried cranberries or raisins
1 ½ cup orange juice
1 cup lemon juice
4 T orange zest (optional)
½ cup brown sugar
2 tsp salt
1 Tbsp. 1 tsp cinnamon
2 cups vegetable oil
Method
1
If toasting walnuts, place on a baking pan and bake at 300 F for 6-10 minutes until lightly browned. Set aside to cool completely.
2
In a large mixing bowl combine grated carrots, walnuts, and dried fruit. Set aside.
3
In another bowl, combine orange juice, lemon juice, zest, brown sugar, salt, and cinnamon. Whisk until blended.
4
Slowly whisk oil into juice mixture until well combined.
5
Pour dressing over carrot mixture. Toss to coat.
6
CCP: Hold at 41 F or below before and during service.
About Kosher meals: 
Kosher eaters include vegetarians, Muslims, Buddhists, Jews, lactose intolerant persons, and more. You should be aware if you have Kosher eaters at your site! Want to learn about Kosher food rules? Check them out here.
A little about carrots: 
Carrots are the swollen taproots of vegetables belonging to the Umbelliferous family that includes celery, parsnips, parsley, cumin, and dill (look at the resemblance in their flowers). They lend complexity to stocks, soups, and stews with their complex aromatic molecules and add a hint of sweetness (up to 5% total weight of a mixture sucrose, glucose, and fructose). These characteristics have led them to be used in many cultures' sweets and pastries – carrot cake and the vegetable fudge halwa.
Excerpt from The Chopping Block, Chicago, IL thechoppingblock.com
Nutrition Facts

100 servings per container

Serving Size

1/2 cup

Amount per serving

Calories

91

% Daily Value*

Total Fat

4.5 g

5.77%

Saturated Fat

0.7 g

3.5%

Trans Fat

0 g

Sodium

80 mg

3.48%

Total Carbohydrate

8.78 g

3.19%

Dietary Fiber

1.7 g

6.07%

Protein

0.87 g

1.74%

* The % Daily Value (DV) tells you how much a nutrient in a serving of food contributes to a daily diet. 2,000 calories a day is used for general nutrition advice.
Save this recipe: