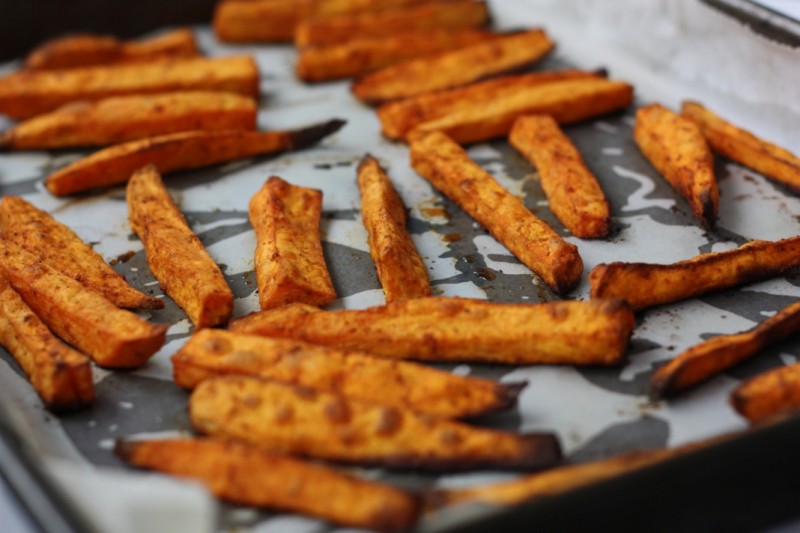 Roasted carrots are sweeter than raw, and very versatile when you change up the seasonings!This is a winter school food service recipe for carrots.Cooking and prep level: Basic.
Prep Time

40 min

Cook Time

20 min

Total Time

1 hr

Yield

100

Serving Size

1/2 cup

Energy

91 cal

HAACP Process

2
USDA Meal Components

½ cup red/orange vegetable

Diet
Ingredients
20 lbs Carrots, fresh peeled and cut into thin sticks
½ cup Vegetable, Olive or Canola oil
1 Tbsp 1 tsp Salt, kosher
2 tsp Black Pepper, ground
Flavor Variations (choose one):
Asian: 2 tsp Ginger, ground
Italian: 2 tsp Oregano, dried, 2 tsp Garlic, granulated
Lemon: ½ cup Lemon juice, fresh, 2 Tbsps Parsley, fresh chopped
Mexican: 1 tsp Cumin, 1 tsp Chipotle Powder, 1 tsp Chili Powder
Method
1
CCP: Preheat oven: Convection 400*F, Conventional 425 F
2
Toss carrot sticks with oil, salt, and pepper. If using a flavor variation, add spices, etc. to oil, mixing to incorporate.
3
Spread carrot sticks onto parchment covered sheet pans- 10 lbs maximum per pan.
4
Bake about 10 minutes. Stir once and return to oven for about 5 minutes until tender, but not mushy.
5
CCP: Internal temperature of 135 °F must be reached for 15 seconds.
6
CCP: Hold at a minimum of 140 °F through service.
A Brief History of the Carrot: 
The home of carrots and its numerous cousins can be tracked to dry and hot lands of Iran and Afghan. The earliest evidence of its use there was dated to 3000 BC. From there, carrot seeds were picked, carried and sold via caravans to neighboring Arabian, African and Asian lands, who all accepted carrots immediately and started crossbreeding and creating new types of this famous root. 

Even in those ancient times, many colors of carrots were present and used including black, white, red and purple. Interestingly, the orange colors that we use today were not present. The most telling sign of how popular carrots were in those ancient times come from Ancient Egypt, where numerous carrots were placed in the tombs of dead Pharaohs and the drawings of the carrot harvest and processing can be found in numerous hieroglyph paintings. 

(Excerpt from: http://www.vegetablefacts.net/)
Nutrition Facts

100 servings per container

Serving Size

1/2 cup

Amount per serving

Calories

91

% Daily Value*

Total Fat

4.5 g

5.77%

Saturated Fat

0.7 g

3.5%

Trans Fat

0 g

Cholesterol

0 mg

0%

Sodium

80 mg

3.48%

Total Carbohydrate

8.78 g

3.19%

Dietary Fiber

1.7 g

6.07%

Protein

0.87 g

1.74%

* The % Daily Value (DV) tells you how much a nutrient in a serving of food contributes to a daily diet. 2,000 calories a day is used for general nutrition advice.
Save this recipe: