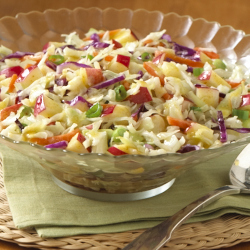 Crunchy, sweet and tart, this salad will brighten any menu or salad bar! This is an autumn apple and cabbage, or a winter honey, school food service recipe. Cooking and prep level: BasicAdapted from Washington State Schools Scratch Cooking Book – La Conner School District
Prep Time

50 min

Total Time

50 min

Yield

100

HAACP Process

1
USDA Meal Components

other vegetable: ¼ c
Fruits: ⅛ c
Ingredients
3 lbs 2 oz Cabbage, fresh shredded
1 lb 4 oz Carrots, fresh shredded
3 lbs 12 oz Apples, fresh skin on sliced
⅔ cup Sunflower Seeds, toasted
⅔ cup Cherries, dried unsweetened
Dressing
1 cup Apple Cider Vinegar
5 Tbsp Olive Oil
3 Tbsp + 1 tsp Honey, pure local
2 tsp Salt
Method
1
Chop apples into ½ inch pieces.
2
Toss all salad ingredients in a deep hotel pan.
3
In a large bowl whisk vinegar with honey and salt. Slowly stream oil into vinegar while whisking to incorporate.
4
Toss dressing with salad ingredients to coat.
5
CCP: Refrigerate and hold at 41 F or lower until service.
6
Portion in a ⅜ cup serving.
Save this recipe: