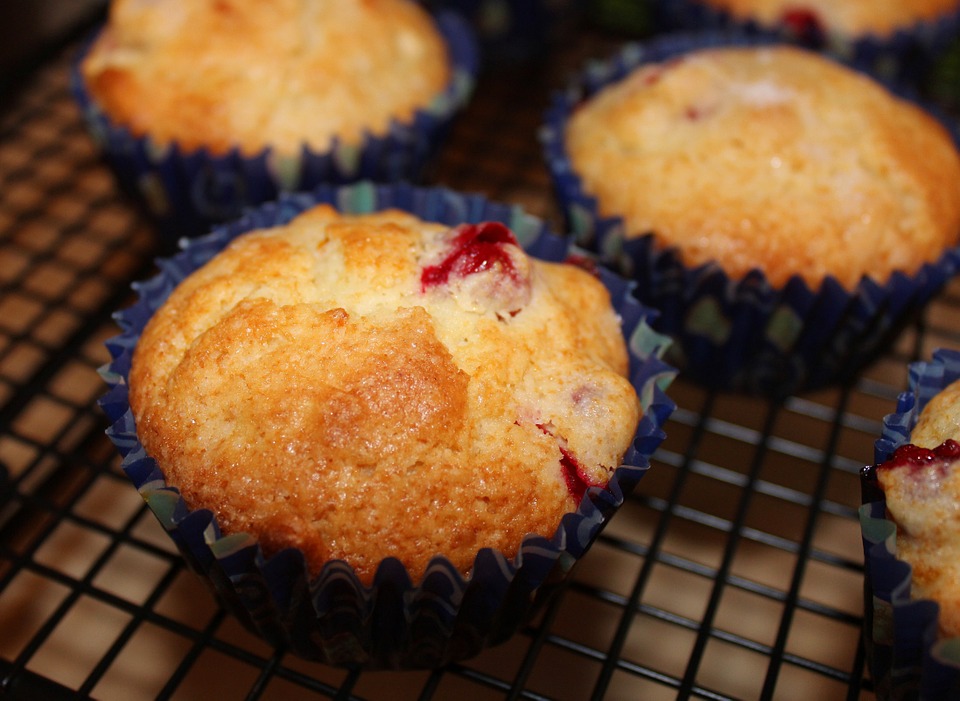 These muffins are a great start to anyone's day! Sweet and tart with cheddar cheese, you can guarantee your students will love them! This is an autumn and winter school food service recipe for Apples, Cranberries, Honey, and local Grains. Cooking and Prep Level: Basic. 
Prep Time

1 hr 10 min

Cook Time

30 min

Total Time

1 hr 40 min

Yield

100

Serving Size

1

Energy

159 cal

HAACP Process

2
Course

USDA Meal Components

Diet
Ingredients
4 lbs Cornmeal, whole grain yellow, enriched (make it local!)
2 Tbsp Salt
2 Tbsp Baking Soda
3 Tbsp 1 tsp Baking Powder
6 Whole Eggs, Large
16 oz Canola Oil
64 oz Yogurt, plain low-fat
16 oz lHoney, pure locally sourced
8 oz Sugar, brown
2 lbs Cheddar Cheese, shredded, reduced fat (a great way to use up USDA commodity cheese!)
2 lbs Cranberries, dried sweetened (make it a regional purchase)
4 lbs Apples, peeled & diced, Braeburn or other firm-fleshed variety (buy them from your local orchard)
Pan Spray
Method
1
CCP: Preheat conventional oven to 375 F
2
Lightly grease muffin pans with vegetable oil cooking spray, or insert muffin liners
3
In a large bowl, combine cornmeal, salt, baking soda and baking powder.
4
In a mixer at low speed, beat eggs. Add oil, yogurt, and honey.
5
Add the cheese, cranberries, brown sugar and apples to egg mixture and mix on low speed.
6
While mixer is running, add dry ingredients slowly, combining well.
7
Scoop batter into muffin cups using a #16 scoop- one scoop per cup.
8
CCP: Bake muffins for 30 minutes, rotating once during baking. Tops should be golden and a toothpick inserted into the center should come out clean.
9
Shortly rest the muffins, then serve warm or at room temp.
Nutrition Facts

100 servings per container

Serving Size

1

Amount per serving

Calories

159

% Daily Value*

Total Fat

6.8 g

8.72%

Saturated Fat

1.9 g

9.5%

Trans Fat

0 g

Cholesterol

18.3 mg

6.1%

Sodium

293 mg

12.74%

Total Carbohydrate

22.1 g

8.04%

Dietary Fiber

1.3 g

4.64%

Total Sugars

14.3 g

Protein

4 g

8%

* The % Daily Value (DV) tells you how much a nutrient in a serving of food contributes to a daily diet. 2,000 calories a day is used for general nutrition advice.
Save this recipe: