BRUSSELS SPROUT BUTTERFLY WITH CHERRY TOMATO FLOWERS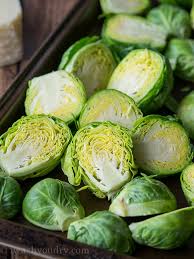 This is a fun way to encourage kids to eat all of their vegetables and create art at the same time!This is a CACFP autumn recipe for Brussels Sprouts.Cooking and prep level: Basic.
Prep Time

20 min

Total Time

20 min

Yield

4

Serving Size

1

Energy

29 cal
Course

Appetizer
Snack
Cold Veggie Side

USDA Meal Components

Diet
Ingredients
1 cup Brussels Sprouts
¼ lb Asparagus
1 cup Cherry Tomatoes
1 med Carrot
1 cup Spinach
Instructions
1
Cut stems off of the Brussels sprouts and the hard ends of the asparagus spears.
2
Cut the Brussels sprouts lengthwise into thin slices.
3
Slice tomatoes in half, peel the carrot and cut into rounds.
To Assemble
4
Have your children use the asparagus spear as the butterfly body, the slices of Brussels sprouts as wings (2 pieces per wing). Place 4 cherry tomato halves in a circle for the flower with a carrot round as the center.
5
Use the spinach as leaves at the base of the flower.
6
You can serve a dressing on the side as a dip to eat with the veggies!
Nutrition Facts

4 servings per container

Serving Size

1

Amount per serving

Calories

29

% Daily Value*

Total Fat

0 g

0%

Trans Fat

0 g

Total Carbohydrate

6 g

2.18%

Dietary Fiber

2 g

7.14%

Total Sugars

2 g

Protein

2 g

4%

* The % Daily Value (DV) tells you how much a nutrient in a serving of food contributes to a daily diet. 2,000 calories a day is used for general nutrition advice.
Save this recipe: