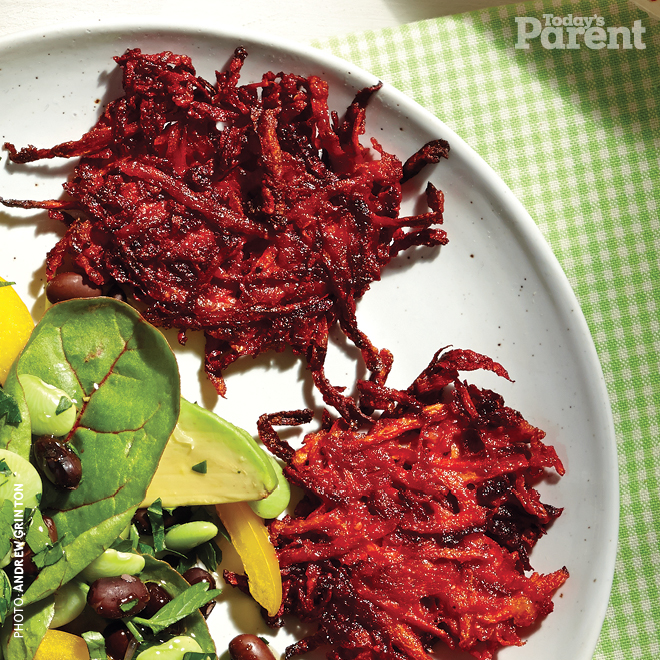 Trying to get your young eaters to try beets? Combine beets with sweeter carrots in a yummy latke and watch your kids eat them up!This is a CACFP recipe for Beets and Carrots.Cooking and prep level: Intermediate.
Prep Time

15 min

Cook Time

10 min

Total Time

25 min

Yield

(8) 5.5 oz

Serving Size

2 latkes

Energy

189 cal

HAACP Process

2
Cuisine

USDA Meal Components

1/2 cup orange/red vegetable

Diet
Ingredients
1 small onion
2 large eggs
1/4 cup + 2 T all-purpose flour
1/2 tsp salt
1/4 tsp black pepper
1 lb coarsely grated, peeled beets
1 lb coarsely grated, peeled carrots
1/3 cup canola oil
Method
1
Use a grater to grate onion into a bowl. Transfer to a clean kitchen towel, squeeze out any liquid, then transfer onion back to bowl. 
2
Combine eggs, flour, salt, and pepper, add onion and mix until ingredients are well combined. Add grated beet and carrot, and toss until just combined. 
3
Heat 2 tbsp of canola oil in a large frying pan on medium. Drop about 1⁄4 cup mixture into pan for each latke, and use the back of a spatula to compress it slightly.
Fry for 2 to 3 min per side or until latkes are browned and cooked through. Place on a paper towel-lined baking sheet. Repeat until all latkes are cooked, adding remaining 2 tbsp oil to pan as needed. 
4
Serve with plain Greek yogurt or sour cream for dipping if desired.
Nutrition Facts

8 servings per container

Serving Size

2 latkes

Amount per serving

Calories

189

% Daily Value*

Total Fat

13 g

16.67%

Saturated Fat

1 g

5%

Trans Fat

0 g

Cholesterol

52 mg

17.33%

Sodium

246 mg

10.7%

Total Carbohydrate

15.7 g

5.71%

Dietary Fiber

3.6 g

12.86%

Total Sugars

7.4 g

Protein

3.6 g

7.2%

Calcium

39.3 mg

3.02%

Iron

1 mg

5.56%

Vitamin C (Ascorbic Acid)

7.5 mg

8.33%

* The % Daily Value (DV) tells you how much a nutrient in a serving of food contributes to a daily diet. 2,000 calories a day is used for general nutrition advice.
Save this recipe: