3-INGREDIENT CREAMY PUMPKIN PASTA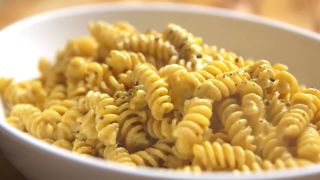 The key to balancing the richness of the cream and the sweetness of the pumpkin in this simple sauce is salty, starchy pasta water. Tell your kids this is Halloween Pasta and watch them eat it up!This is an autumn family recipe for local pumpkin.
Prep Time

1 hr 15 min

Cook Time

1 hr 15 min

Total Time

2 hr 30 min

Yield

4

Serving Size

1/4

Energy

694 cal
Ingredients
1 pound whole wheat short pasta (such as penne, rigatoni, fusilli, or shells)
1 teaspoon kosher salt, divided, plus more
¾ cup pure pumpkin puree (1 local pie pumpkin, small. see notes)
¾ teaspoon freshly ground black pepper, divided, plus more
Method
1
Cook and puree fresh pie pumpkin per instructions in the notes.
2
Cook pasta in a large pot of boiling salted water, stirring occasionally, until al dente. Drain pasta, reserving 1 cup pasta cooking liquid.
3
Meanwhile, bring cream to a simmer in a large skillet over medium-high heat and cook, stirring occasionally, until reduced by half, about 4 minutes. Whisk in pumpkin puree; season with ½ tsp. salt and ½ tsp. pepper.
4
Add pasta and 1 cup reserved pasta cooking liquid to skillet and cook, tossing to coat until sauce has reduced, 3-4 minutes. Season with remaining ½ tsp. salt and ¼ tsp pepper. Top with freshly ground pepper before serving.
Don't be afraid of using fresh pumpkin instead of canned! Illinois is one of the top growing states for pumpkin. Celebrate Illinois pumpkin and easily puree this midwest veggie using Alton Brown's sure-fire process.

Heat the oven to 400 degrees F.
Slice a small piece of skin off the one side of the pumpkin so when laid on its side, the pumpkin will lay flat without rolling. Remove the stem and split the pumpkin in half from top to bottom, using a large cleaver and a mallet. Scoop out the seeds and fiber with a large metal spoon or ice cream scoop. Cut the fibers with kitchen shears if necessary. Reserve seeds for another use.

Sprinkle the flesh with kosher salt and lay the halves, flesh side down, on a parchment paper-lined half sheet pan. Roast until a paring knife can be easily inserted and removed from the pumpkin, 30 to 45 minutes. Test in several places to ensure doneness.

Remove the half sheet pan to a cooling rack and cool the pumpkin for 1 hour. Using a large spoon, remove the roasted flesh of the pumpkin from the skin to the bowl of a food processor. Process until the flesh is smooth, 3 to 4 minutes. Store in the fridge for up to 1 week or freeze for up to 3 months.
Nutrition Facts

4 servings per container

Serving Size

1/4

Amount per serving

Calories

694

% Daily Value*

Total Fat

29 g

37.18%

Saturated Fat

18 g

90%

Trans Fat

0 g

Sodium

508 mg

22.09%

Total Carbohydrate

91 g

33.09%

Dietary Fiber

5 g

17.86%

Protein

17 g

34%

* The % Daily Value (DV) tells you how much a nutrient in a serving of food contributes to a daily diet. 2,000 calories a day is used for general nutrition advice.
Save this recipe: